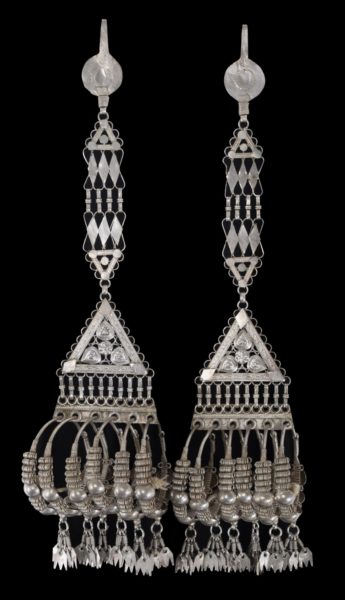 4982
Enquiry about object: 4982
Pair of Indian Silver Head/Temple Ornaments
Himachal Pradesh, India, or possibly Hazara, Afghanistan circa 1900
lengths: 26cm, widths: 5.5cm, combined weight: 202g
Provenance
Collection of (the late) Paul Walter; probably acquired in London.
This fine and complex pair of high-grade silver ornaments were designed to be suspended from a headdress down each side of the head. They were worn in a similar fashion to earrings but were not suspended from the ear lobes because of their size and weight.
Each comprises a long, multi-segment chain, followed by a pierced, triangular plaque, and from this six silver loops are suspended. The loops are decorated with bands of fine wire work and applique work. Silver spangles are suspended from each hoop.
Each is in fine condition with no losses.
References
Seiwert, W.D., Jewellery from the Orient: Treasures from the Bir Collection, Arnoldsche Art Publishers, 2009.