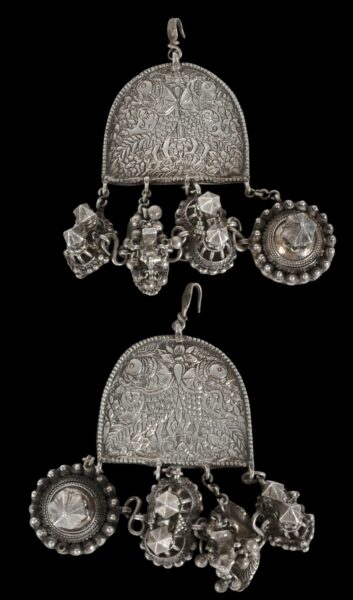 8587
Enquiry about object: 8587
Pair of Indian Silver Toe Ring Sets (Bichhua or Phulri)
India, probably Gujarat or Rajasthan early 20th century
width of semi-circle plate: approximately 6.1cm, combined weight: 278g
This fine and complete pair of high-grade silver items were made to adorn the top of the foot and toes.
Each comprises a semi-circle plate chased with pairs of birds amid foliage, to which four silver toe rings are attached by silver chains.
The toe rings are based on similar rings cast in bronze. They include domed rings and a rings set with solid cast silver birds. The sets here are likely to have been made for a wedding.
The device is worn with thee big and little toes inserted through the rings, and the decorative chain runs across the remainder of the toes.
Related examples are illustrated in Jain-Neubauer (2000, p. 49), Barnard (2008, p. 112), and Untracht (1997, p. 277).
Each of the pair is in excellent condition.
References
Barnard, N., Indian Jewellery, V&A Publishing, 2008.
Jain-Neubauer, J., Feet & Footwear in Indian Culture, Bata Shoe Museum/Mapin, 2000.
Seligman, T., & U. R. Balakrishnan, Enduring Splendor: Jewelry of India's Thar Desert, Fowler Museum at UCLA, 2017.
Untracht, O., Traditional Jewelry of India, Thames & Hudson, 1997.