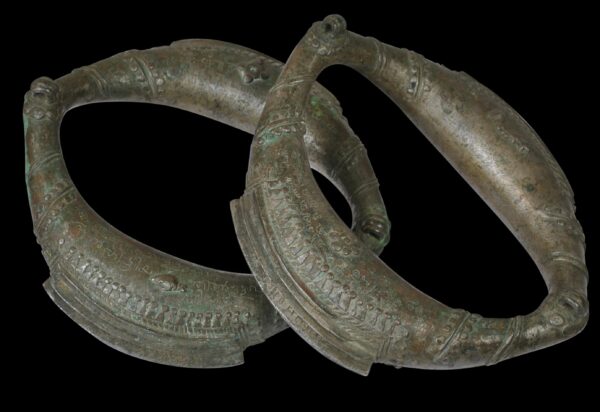 8660
Enquiry about object: 8660
Pair of Large South Indian Temple Priest's Rattle Anklets (Kal Chilampu)
Irinjalakuda, Kerala, South India 18th-19th century
length: 17.3cm, width: 17.2cm, combined weight: 1,222g
This fine pair of large and heavy, cast bronze, rigid anklets was worn by a priest or seer-oracle (velichapad) in a temple compound in Kerala.
Cast using the lost-wax method, each has an elliptical shape, is hollow, and encases pellets that rattle when the anklet is moved. Each is cast with mystical symbols such as sacrifical sword (baliyagiya kalam), the conch (shanka), and sun and moon motifs.
Both are engraved with several lines of Malayalam script.
A similar pair is illustrated in Untracht (1997, p. 271). Another is shown in Jain-Neubauer (200o, p. 50).
The pairs is in excellent condition.
References
Jain-Neubauer, J., Feet & Footwear in Indian Culture, Bata Shoe Museum/Mapin, 2000.
Untracht, O., Traditional Jewelry of India, Thames & Hudson, 1997.