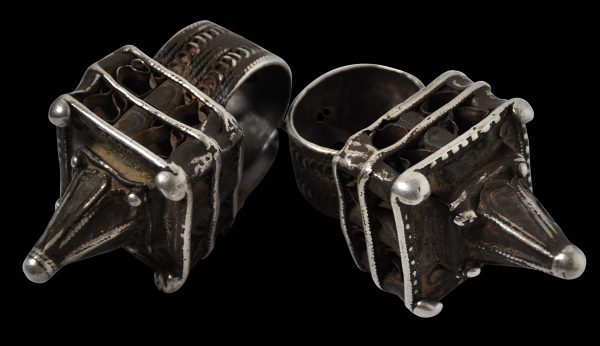 4283
Enquiry about object: 4283
Pair of Moroccan Silver Woman's Hair Rings
Morocco, pre-Sahara Region 19th century
length: 7cm, width: 3.3cm, combined weight: 110g
Provenance
private collection, London.
– scroll down to see further images –
This matching pair of solid silver rings from Morocco, would have been worn in the hair. Such hair rings are increasingly rare and this pair have superb patina – their contours have been rounded and smoothed from decades of wear and handling.
The form is almost architectural and reminiscent of traditional Jewish wedding rings – indeed, they might well be copies of such rings. Morocco historically had a vibrant Sephardic Jewish community that was relatively well integrated with local culture and commerce.
See Grammet & de Meersman (1998, p. 283) for several related pairs.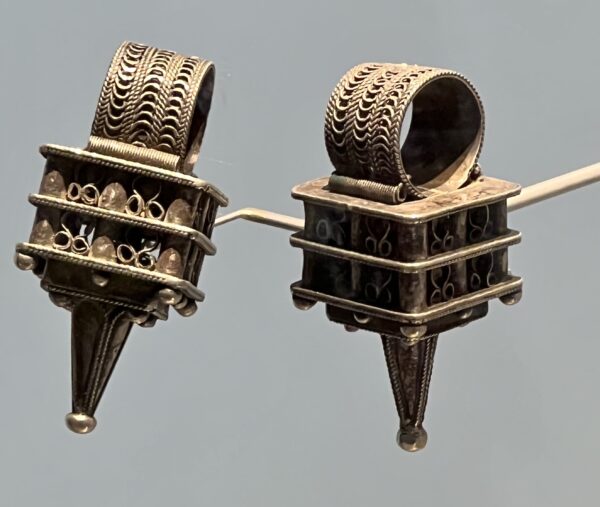 Above: A related pair on display in the Institut du Monde Arabe, Paris.
Scroll down to see more images.
References
Grammet, I., & M. de Meersman (eds.), Splendeurs du Maroc, Musee Royal de l'Afrique Centrale, 1998.