– scroll down to see further images –
This matching pair of solid silver rings from the lower Atlas Mountains of Morocco, would have been worn in the hair. Such hair rings are increasingly rare and this pair have superb patina – their contours have been rounded and smoothed from decades of wear and handling.
The top surface has been decorated with green and yellow enamel.
The form is almost architectural and reminiscent of traditional Jewish wedding rings – indeed, they might well be copies of such rings. Morocco historically had a vibrant Sephardic Jewish community that was relatively well integrated with local culture and commerce.
See Grammet & de Meersman (1998, p. 283) for several related pairs.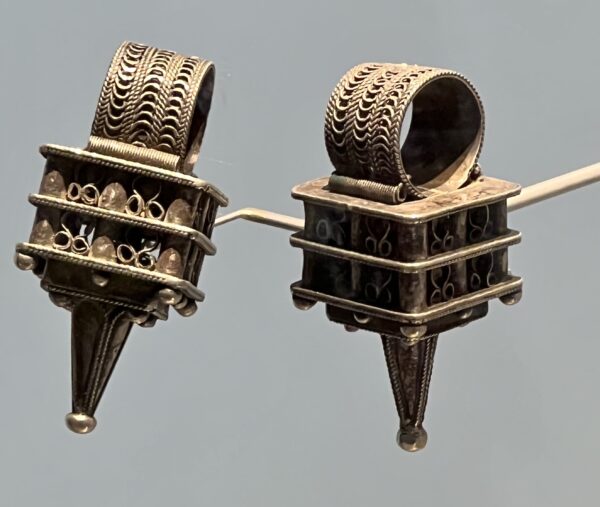 Above: A related pair on display in the Institut du Monde Arabe, Paris.
Scroll down for more images.
References
Grammet, I., & M. de Meersman (eds.), Splendeurs du Maroc, Musee Royal de l'Afrique Centrale, 1998.