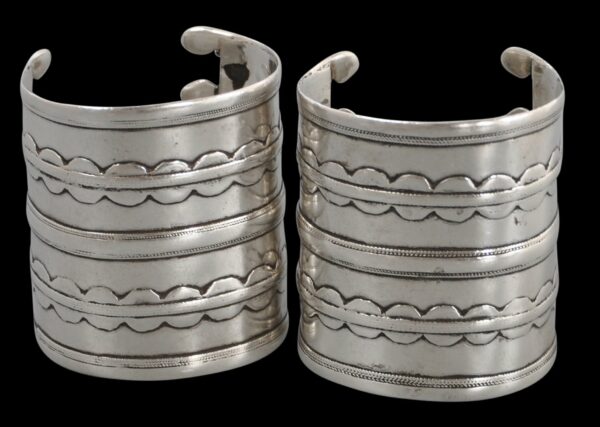 8993
Enquiry about object: 8993
Pair of Turkoman High-Grade Silver Bracelets
Turkoman people, Northern Afghanistan 19th century
length: 7.8cm, internal diameter (widest): approximately 6.5cm, combined weight: 236g
This pair of high-grade, solid silver cuff bracelets is beautiful for their simplicity and patina.  They are from the Turkoman people, most probably of northern Afghanistan, in this instance.
The bracelets are open on one side and edged with serrated, triangular elements known as 'snakes' heads' meant to symbolise life and which give the wearer further talismanic protection.
The bracelets are tapered so that they fit the contours of the wrist like cuffs. They are decorated with two broad bands each of which is decorated with a central raised scalloped bands.
Women in the nomadic communities of Central Asia and northern Afghanistan tended  to wear heavy, conspicuous jewellery. Girls were provided with such pieces on marriage as part of their dowry and the pieces were added to as the married couple grew more affluent.
The pair are decorative and have much wear from use and age. Accordingly, the contours have become rounded and the relief has been smoothed.
A related example is illustrated in van Cutsem (2022, p. 150).
References
van Cutsem, A., A World of Bracelets: Africa, Asia, Oceania, America, Skira, 2002.