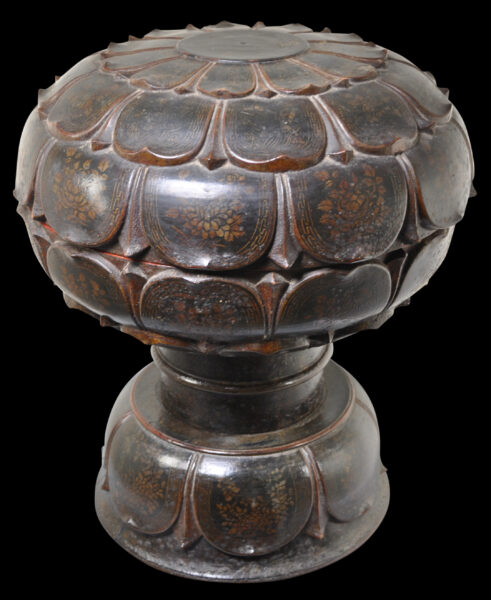 8758
Enquiry about object: 8758
Palembang Lotus-Form Lacquered Box (Ponjen)
Palembang, South Sumatra, Indonesia 19th century
height: approximately 40cm, width: 37.5cm, weight: 5,092g
This container, shaped like a double lotus flower and made of teak wood with a black lacquer covering and gilt decoration, is known as a ponjen.
The gilt decoration is in the form of floral sprays.
It comprises a base, a mid-section and a cover – all of which come apart as three separate parts.
It was used to store dowry items and was kept in the bridal chamber. Such a box was used by the people of Palembang in South Sumatra who were essentially Malay but with strong localised Chinese (Peranakan) influence.
The lotus was a symbol of purity rising from the mud as it does and yet pristine and beautiful, and so the lotus-form pronjen were an appropriate symbol of the virginal bride.
The box has obvious age. There is a crack to the base (which has been repaired) and some of the extremities of the lotus petal decoration have some chipping. It is however, large and sculptural.
References
Brinkgreve, F., & D.J. Stuart-Fox (eds), Living with Indonesian Art: The Frits Liefkes Collection, Rijksmuseum Volkenkunde, 2013.
Wentholt, A., Nusantara: Highlights from Museum Nusantara Delft, C. Zwartenkot Art Books, 2014.