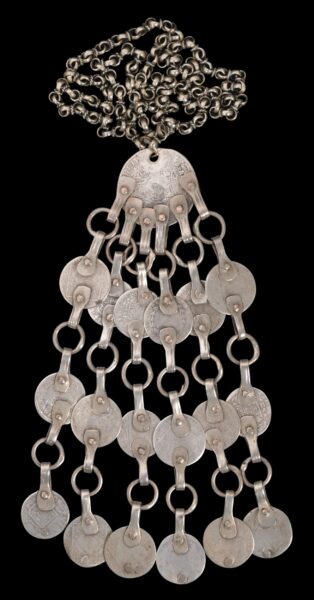 9069
Enquiry about object: 9069
Palestinian Head Ornament with Spanish Silver Real Coins
Palestine 18th-19th century
length (of pendant with its elements): 14.1cm, circumference (of chain): 85cm, weight: 313g
This large silver coin ornament, from Palestine, attached to a large silver chain so that the set can be worn as a necklace, would have served as a temporal, to be worn suspended from a headdress down the side of the head.
It is set with 19 Spanish reales, all joined with silver spacers.
Palestinian jewellery and dress tended to be quite regional: it was usually possible to identify quite accurately where in Palestine a woman was from by her jewellery. But more broadly, Palestinian jewellery was influenced by the centuries of cultural and political contact and so exhibits Ottoman, Circassian and Armenian influence.
Silver coins were used in many types of Palestinian jewellery and the sources of these coins also suggest the wide trade and personal links of the Palestinians.
The silver chain here is a later addition although the chain itself is old and substantial. It allows the ornament to be worn as necklace.
References
Hosli, P., Shine & Mystery: The Splendour and Power of Oriental Jewellery, Knauf-Museum – Iphofen, 2023.