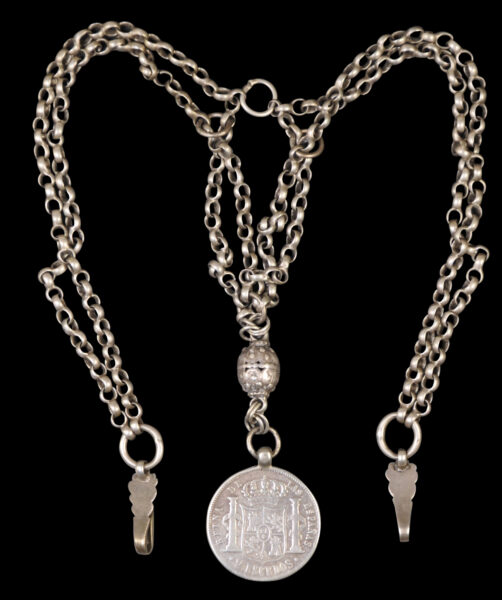 8770
Enquiry about object: 8770
Rare Palestinian Silver Chin-Chain (Iznaq)
Palestine circa 1890
length (of the chain, when extended): 48cm, width (of pendant): 3.7cm, weight: 115g
Provenance
private collection, UK
This chain known as an iznaq, iznac or znaq was worn by Palestinian women beneath the chin and suspended from a headdress known as shatweh and helped to weigh it down. It comprises hand-made silver chains and hooks, with a Spanish 2 escudos silver coin and a pierced silver bead as weights. The coin is dated 1867 and has as effigy of Isabella II on one side, and the coat of arms of Spain on the other.
Examples such as these were worn in towns and villages outside Bethlehem such as Beit Daijan.
Palestinian jewellery and dress tended to be quite regional: it was usually possible to identify quite accurately where in Palestine a woman was from by her jewellery. But more broadly, Palestinian jewellery was influenced by the centuries of cultural and political contact and so exhibits Ottoman, Circassian and Armenian influence.
Silver coins were used in many types of Palestinian jewellery and the sources of these coins also suggest the wide trade and personal links of the Palestinians.
A Palestinian around 1870, wearing an iznaq.
Scroll down for more images.
References
Hosli, P., Shine & Mystery: The Splendour and Power of Oriental Jewellery, Knauf-Museum – Iphofen, 2023.