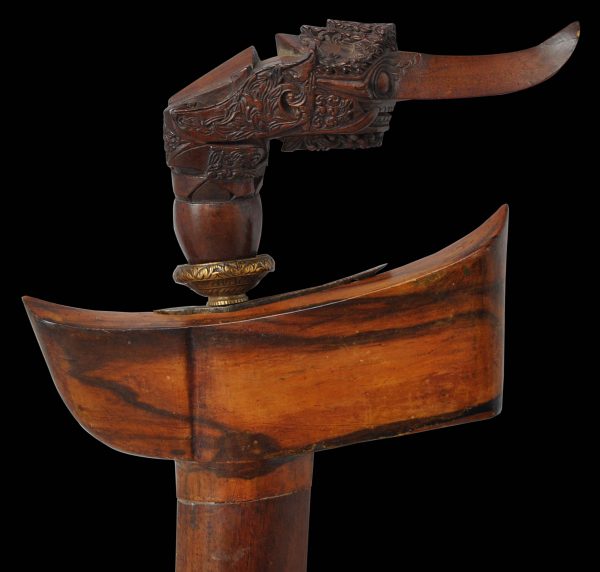 1840
Enquiry about object: 1840
Patani Kris Tajong with Zoomorphic Carved Wooden Hilt
Kelantan, Malaysia or Patani, Southern Thailand 19th century
length: 47.5cm, weight: 507g
Provenance
private UK collection
The kris tajong with its zoomorphic, long-nosed hilt (hulu) is synonymous with the Malays of the East Coast of the Malay Peninsula – the Kelantan-Terengganu-Pattani region. According to Noor & Khoo (2003, p. 120) originally, the shape of the hilt was based on a representation of the Hindu god Shiva, as it was adapted for the god's characterisation in the Wayang Kulit shadow puppet plays that were staged by Malay communities. Through the centuries and with the conversion of the Malays to Islam, the form became more stylised and more zoomorphic. Facial features were replaced by carved floral flourishes and so on.
This excellent example has a plain scabbard, straight pamor blade, and a masterfully carved zoomorphic hilt.
The kemuning wood hilt is very finely carved with daun ketumbit motifs to the cheeks and body which is also carved with tajong spiral motifs. The head is thrust forwards and the open mouth grimaces with expectation. The nose is up-tilted.
The cross-guard is made from ketengga wood, and has been used in such a way as to highlight its beautiful, striped grain.
The polished brass cup (pendokok) that is at the base of the hilt is engraved with petal motifs but is a later replacement.
The blade fits perfectly and tightly in the scabbard with little movement and no gaps.
The blade is of significant age and probably later than the 19th century. The scabbard and hilt clearly are 19th century and have a fine patina. There is an old, small repair to the tip of the nose of the hilt and some minor loss to some of the carving detail to a small section of one side of the head. But overall, the condition is fine and the wood has a clear and obvious rich patina.
The anthropologist Walter Skeat who travelled to Patani in 1899-1900 tells of our such long-snouted krises were worn on the back tucked into a waist band and whenever the wearer wanted to draw it in a hurry, he brought the hilt up to the level of his shoulder after which he would grab it in his hand, with a quick kick backwards.
References
Noor, F. & E. Khoo, Spirit of Wood: The Art of Malay Woodcarving, Periplus, 2003.
Skeat, W.W. & F.F. Laidlaw, 'The Cambridge University Expedition to parts of the Malay Peninsula, 1899-1900: Personal accounts of the late W.W. Skeat & Dr F.F. Laidlaw', Journal of the Malayan Branch Royal Asiatic Society, Vol. XXVI, Part 4, December 1953.