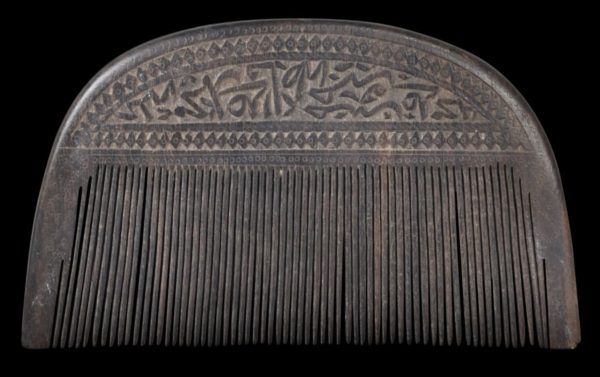 6173
Enquiry about object: 6173
Persian Inscribed Wooden Comb
Persia/Iran early 20th century & possibly earlier
length: 14cm, height: 8.4cm, thickness at the top: 1.1cm, weight: 89g
The D-shaped comb has been carved from dark wood and is from Persia (Iran).
It is carved on both sides in Arabic script, thereby giving the comb a protective, talismanic quality for the wearer. Indeed, such a comb was to be worn as an ornament rather than used to comb one's hair.
A related example is illustrated in van Cutsem (2005, p,. 83).
The example here is well carved and is in excellent condition.
References
Cruse, J., The Comb: Its History and Development, Robert Hale Ltd, 2007.
van Cutsem, A., A World of Head Ornaments: Africa, Asia Oceania, America, Skira, 2005.