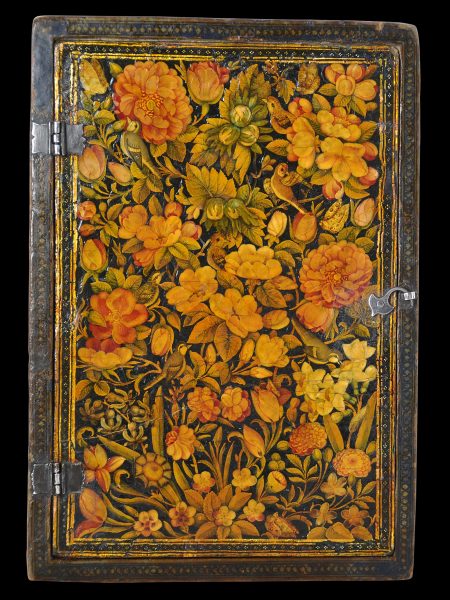 3581
Enquiry about object: 3581
Fine, Persian Painted & Lacquered Mirror Case
Persia (Iran) Zand Dynasty, circa 1780
height: 21.8cm, width: 15.2cm, thickness: 1cm
Provenance
private collection, UK
This papier mache mirror case of rectangular form and hinged cover is decorated front and back and on the interior leaf with elaborate and finely painted and lacquered gul-o bulbul decoration of various flowers and hazelnut clusters as well as small birds and butterflies. The painting work is particularly fine.
Unusually, the case retains its original glass mirror. The hinges and latch are of silver.
The silvering of the mirror has deteriorated, as might be expected. There is also evidence of light restoration to the lacquered surfaces. The sides show some scuffing. Some of the silver hinge components are likely replacements. But overall, the lacquered and painted decoration is intact and bright.
References
Loukonine, V., & A. Ivanov, Persian Lost Treasures, Mage Publishers, 2003.