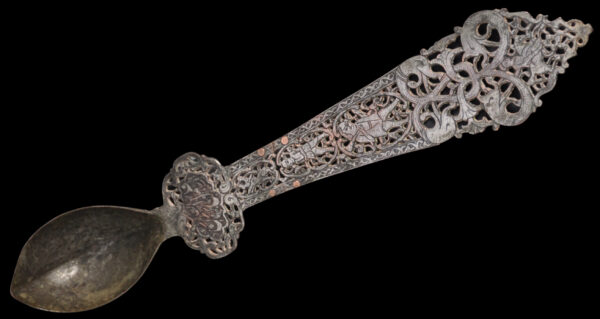 7112
Enquiry about object: 7112
Persian Silvered Fretwork Banqueting Sherbet Spoon
Persia/Iran circa 1800
length: 27.2cm, width: 4.7cm, weight: 70g
– scroll down to see further images –
This large spoon of silvered, pierced copper has an elongated rhomboidal handle and a deep, boat-shaped bowl. The handle is pierced and decorated with figures in Persian dress, and two pairs of addorsed and entwined serpents, all amid foliate scrolling. It also has a short inscription in Persian, alluding to a personal name.
Spoons such as this more typically are carved from wood, and such examples probably are later. (See an example in the Victoria & Albert Museum.) An example in metal is highly unusual.
Such spoons were used during banquets or special ceremonies. Often they were used in conjunction with porcelain bowls of sherbet. The spoons were used communally amongst guests, often with several guests using the same spoon.
The example here has a fine patina and obvious age. The handle has been broken and then repaired using copper rivets and the repair itself has good wear and patina, adding to the charm and age of the piece.
References
Loukonine, V., & A. Ivanov, Persian Lost Treasures, Mage Publishers, 2003.
Curtis, J., I. Sarikhani-Sandmann & T. Stanley, Epic Iran: 5,000 Years of Culture, V&A Publishing, 2021.