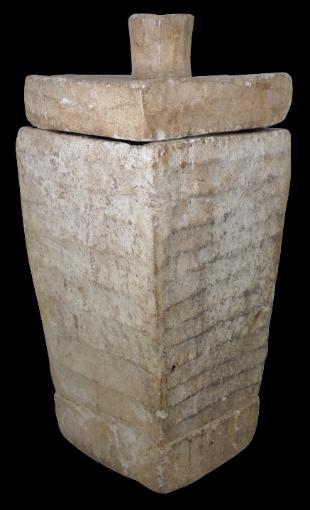 2586
Enquiry about object: 2586
Philippines Lidded Limestone Burial Jar
South Cotabato, Mindanao, Philippines 8th-9th century
height: 69cm, width: 30cm
Provenance
UK art market; UK private collection; acquired from Patricia Withofs, 1984.
This large white limestone jar of tapering, squarish form and carved with prominent schematic linear patterns was used for secondary burial purposes, whereby the skull and selected long bones of the deceased were exhumed, ritually cleaned and then interred in the jar. This and other jars like it were then stored in caves in the southern Cotabato region of Mindanao. Personal items such as jewellery often were placed inside the jar as well.
It has a carved, square stone lid. The base is carved from a single limestone block. The lid is carved from another block.
Such jars are very rare. They were found in caves in the Cotabato region, caves that were found to have held dozens of such jars. They were unknown until the first half of the twentieth century but soon after their discovery and certainly by the 1960s almost all the jars had been taken from the caves. Many were shipped outside the Philippines.
Related jars are illustrated in Henkel (2009, p. 61), Afable et al (2013, p. 82), Casal et al (1981, p.60-61), Barados (1995, p. 14,16) and Maxwell (2010, p. 176-77).
The jar was acquired from Patricia Whitofs in 1984 by a previous private UK owner. Whitofs was born in Sydney in 1934 and became a prominent collector and dealer in tribal art. She lived in New York, Sydney and London and advised and assisted with several important museum shows including the ground-breaking exhibition 'Primitivism and 20th century Art' held in 1980 at the Museum of Modern Art, New York. She was friendly with many important 20th century modern artists, and when she died, her estate included works by Pablo Picasso and Henry Moore, both of whom she counted as friends.
The jar here is in a fine, stable condition. There are small chips and losses to the extremities of the jar itself. But overall, the condition is fine given that the item is of limestone and more than a thousand years old.
References
Afable, P., et al, Philippines: an Archipelago of Exchange, ACTES SUD/ Musee du Quai Branly, 2013.
Barados, D., Land of the Morning: Treasures of the Philippines, San Francisco Craft & Folk Museum, 1995.
Casal, G. et al, The People and Art of the Philippines, UCLA Museum of Cultural History, 1981.
Henkel, D., et al, Land of the Morning: The Philippines and its People, Asian Civilisations Museum (Singapore), 2009.
Maxwell, R., Life, Death & Magic: 2000 Years of Southeast Asian Ancestral Art, National Gallery of Australia, 2010.