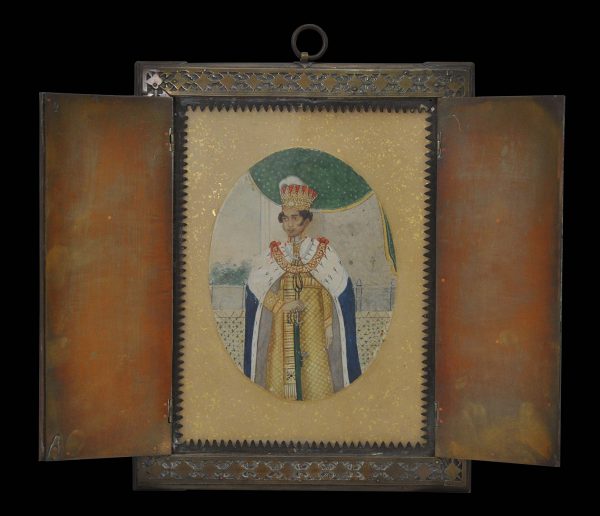 3762
Enquiry about object: 3762
Portrait of Nasir-ud-Din Haidar Shah, the second Nawab of Oudh (r. 1827-37) in Original Brass Frame
Lucknow, India circa 1840
height of frame: 25cm, width: 20cm, height of image: 15cm
Provenance
UK art market.
This image of Nasir-ud-Din Haidar Shah, Nawab of Lucknow, has been completed in watercolour with gold highlights. It is in the original brass frame that is decorated with pierced work and has two swing doors which open to reveal the painting inside, almost akin to a religious icon.
Nasir-ud-Din Haidar Shah was born in 1803. He reigned as the Nawab or King of Oudh from 1827 to 1837 when he died of poisoning – apparently murdered by members of his own court. He was the son of Ghazi-ud-Din Haidar Shah, and he ascended to the throne on his father's death, at the age of 25.
He neglected his administrative role, and earned the reputation as a womaniser and a heavy drinker, factors which most likely lead to his murder. He died childless, and the queen mother, Padshah Begum, put another claimant Munna Jan on the throne, but he was not acknowledged as a member of the royal family. The British intervened, jailing both Padshah Begum and Munna Jan, and enthroned Nasir-ud-daula instead, another member of the ruling family.
Finally, in 1856 by order of Lord Dalhousie, Governor General of the East India Company, the king of Oudh was deposed, and the kingdom was annexed to British India on the grounds of alleged internal misrule.
The painting and frame have age and show their age. There are no obvious losses or repairs.
References
Markel, S. et al, India's Fabled City: The Art of Courtly Lucknow, LACMA/DelMonico Books, 2010.