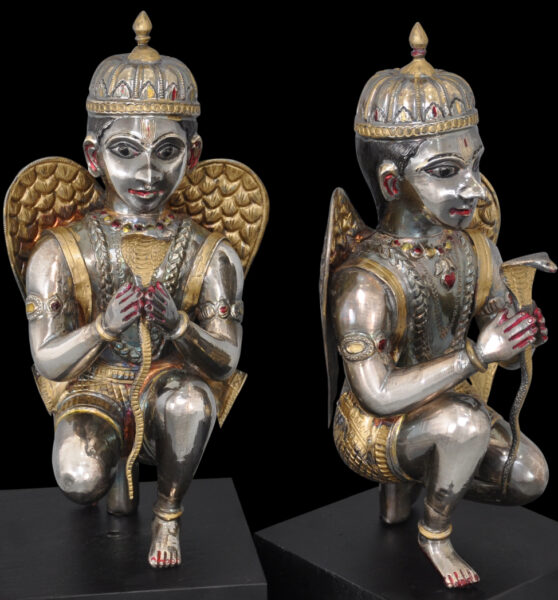 6775
Enquiry about object: 6775
Pair of Large, Indian, Princely, Parcel-Gilded & Enamelled Garuda Figures
Rajasthan, India circa 1800
heights (without stands): 23.8cm, width: 12.4cm, height (with stands): 32.5cm, combined weight: 2,475g
Provenance
German private collection, bought by the father of the previous owner in Germany in 1971 at the sale of a Rajasthan Maharaja's possessions
This spectacular and unusual pair of Garuda figures is of thick chased and cast silver, that has been parcel-gilded and enamelled. They are a true pair – each is the mirror image of the other. Each squats – almost kneeling on one leg. Both have boyish faces; aquiline, beak-like noses; rounded caps or crowns; copious armbands, necklaces and other jewellery; and prominent feathery wings. Each clasps gilded, hooded cobra between their hands which are joined in namaskara mudra.
The wings, short cross-hatched dhoti, and other detailing have been marked our for fire gilding. Other aspects have been enamelled – the hair is decorated with black enamel, as are the pupils of the eyes, the finger and toenails are highlighted with red enamel, and so on.
Garuda is the hawk mount (vahana) of the god Vishnu. Accordingly, each figure has a vertical naman stripe on the forehead, reserved for adherents of Vishnu.
Acquired by the previous owners in 1971 in Germany at the sale of the goods of an Indian Maharaja from Rajasthan, it is likely that they had adorned the private puja (prayer) hall of a Rajasthani palace.
Large, showy items in silver decorated with lions, elephants, deities and other embellishments were popular among Rajasthan royalty in the 18th and 19th centuries. Large items such as palanquins, howdahs and thrones were commissioned. It is within this oeuvre that this pair of Garuda figures can be seen.
Silver was appropriate for use in making Hindu religious items because it was regarded as a 'pure' metal.
The underside of each has a metal screw thread where each was attached to something larger. These are now used to secure each image to its black, custom-made wooden display block.
See Untracht (1997, p. 194) for a photograph of a related silver Garuda figure in a shrine in Gujarat.
Each is in fine condition, and has its custom-made display stand. The silver is high-grade and heavy – the silver used is thickly walled and probably over a substrate. Each image has good weight, is  robust, and noticeably heavy.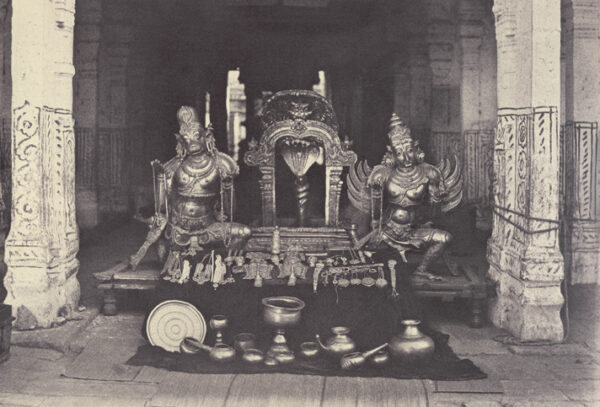 This image by Linnaeus Tripe (1822-1902) shows a selection of jewels in the treasury of the temple at Srirangham, Tamil Nadu, in 1858. A large Garuda image, probably in silver and gold, can be seen on the right.
 – scroll down for more –
References
Blurton, T.R., Hindu Art, The British Museum Press, 1992.
Terlinden, C., Mughal Silver Magnificence, Antalga, 1987.
Topsfield, A. (ed.), In the Realm of Gods and Kings: Arts of India, Philip Wilson Publishers, 2013.
Untracht, O., Traditional Jewelry of India, Thames & Hudson, 1997.