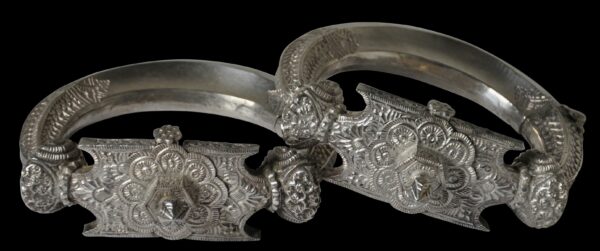 4949
Enquiry about object: 4949
Punjabi Pair of Silver Anklets (Jhanhjar)
Punjab, India/Pakistan early 20th century
exterior diameter: 12.2cm, interior diameter: 9cm, combined weight: 377g
Provenance
Sotheby's New York; Collection of (the late) Paul Walter; probably acquired by him in London.
– scroll down to see further images –
This fine, matched pair of silver anklets is from the Punjab area of what is now Pakistan. Such anklets were worn at weddings and other important events. They are of hollow sheet silver and have been chased.
The anklets are hinged, and open by means of a pull-out clip. The hoops have concave gadrooned sides, the upper sections of which are decorated with geometric patterns.
The faces of the anklets are rectangular with large, raised bud-like finials against grounds decorated with flower motifs.
Pairs of similar form are illustrated in Geoffroy-Schneiter (2011, p. 76) and van Cutsem (2001, p. 162).
The pair here is in fine condition.
References
van Cutsem, A., A World of Bracelets: Africa, Asia, Oceania, America, Skira, 2002.
Geoffroy-Schneiter, B., Asian Jewellery: Ethnic Rings, Bracelets, Necklaces, Earrings, Belts, Head Ornaments, Skira, 2011.