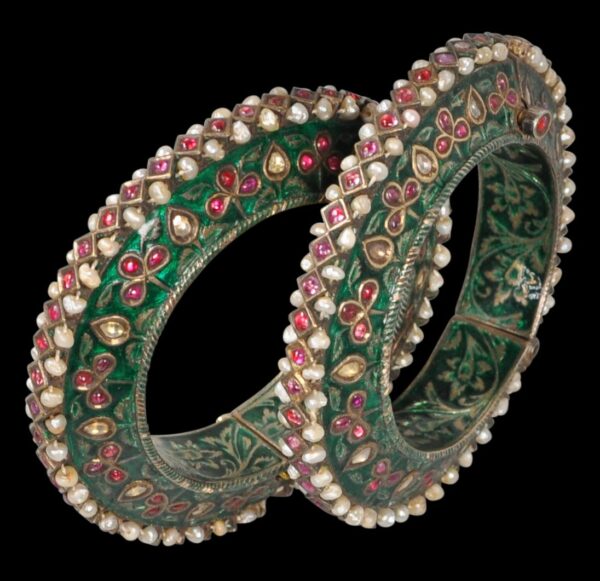 9292
Enquiry about object: 9292
Pair of Indian Gilded & Enamelled Bracelets set with Pearls, Rubies & White Sapphires
Bikaner, Rajasthan, India 18th-19th century
external diameter: 8.9cm, internal diameter: 5.8cm, thickness: 1.3cm, combined weight: 314g
Provenance
private collection, US
This heavy pair of gilded silver bracelets is from Rajasthan. Such bracelets were worn by wealthy women, one on each wrist. The edges of each are decorated with a row of cabochon rubies in gilded box lozenge settings bordered on each side by a row of natural pearls.
Both sides of each bracelet are decorated with clover-like leaf motifs set with rubies in foiled, kundan settings, separated by tear-shaped white sapphires, each in a gilded kundan setting, all against a background of green enamel (sabz zamin) further decorated with leafy motifs.
The interiors are decorated in green enamel with Mughal-influence flower motifs.
Each bracelet comprises two unequal sections that are joined by hinges secured by screws the tops of which are set with ruby cabochons.
Traditionally, in India, the main source of pearls was the sandbanks off the island of Bahrain in the Persian Gulf. The pearls came to shore at Basra in modern-day Iraq and so became known as 'Basra pearls.'
For a pair of similar construction see van Gelder (2018a, p. 152-53).
Overall, these are a splendid pair in very good condition. The enamel loss is minor and they have good weight.
References
van Gelder, B., Traditional Indian Jewellery: Beautiful People, ACC Art Books, 2018a.
van Gelder, B., Traditional Indian Jewellery: The Golden Smile of India, ACC Art Books, 2018b.
Untracht, O., Traditional Jewelry of India, Thames & Hudson, 1997.