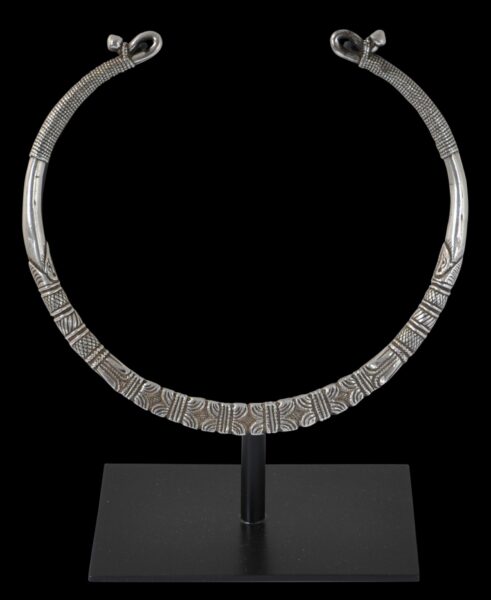 8773
Enquiry about object: 8773
Rajasthan Woman's Silver Torque (Hansuli)
Rajasthan, India 19th-20th century
width: 17.6cm, depth: 1.2cm, display height (including stand): 19.8cm, weight: 303g
Provenance
private collection, UK
This fine silver torque, from the Thar Desert regions of Rajasthan, was intended to be worn by a woman on a daily basis and rarely was taken off.  It has a squarish mid section chased in high relief with flower motifs. The ends taper to curved lotus bud finials and are wrapped in beaded silver wire.
It is known as a hansuli, which refers to where it rests – on the collar bone.
The torque is heavy – it is solid rather than hollow.
The example here is in excellent condition. It is also far finer than most extant examples.
It is accompanied by a well-made black metal stand, and together, the  stand and torque, present as decorative and sculptural.
References
Leurquin, A., A World of Necklaces: Africa, Asia, Oceania, America from the Ghysels Collection, Skira, 2003.
Nadler, D. & S., Silver: From Fetish to Fashion, PDN Publishing, 2005.
Seligman, T., & U. R. Balakrishnan, Enduring Splendor: Jewelry of India's Thar Desert, Fowler Museum at UCLA, 2017.
Untracht, O., Traditional Jewelry of India, Thames & Hudson, 1997.