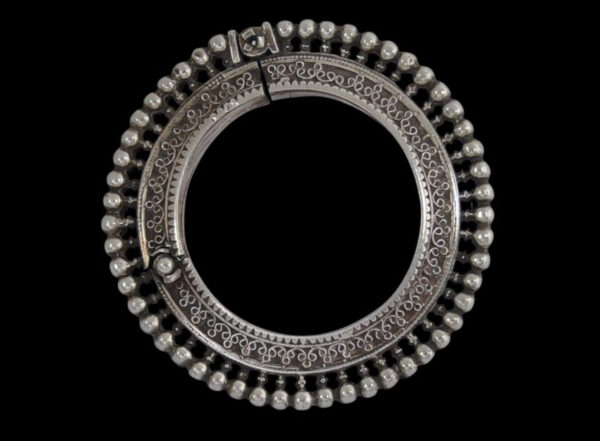 6018
Enquiry about object: 6018
Rajasthani Silver Bracelet
Rajasthan, India 19th-early 20th century
external diameter: 8.5cm, internal diameter: 5cm, thickness: 1.3cm, weight: 119g
This fine, spectacular bracelet is of silver with applied silver spheres and silver filigree work. It is based on the khatria bangles of Rajasthan which were worn on the wrists above and below smaller bangles thereby keeping them in place. Thus they were known as 'guard' bangles.
This example has a hinged section that closes at the other end with a pull-out silver peg.
It is decorated on the outer rim by a double row of applied silver spheres. Both sides are decorated with silver filigree swirls (there might be a minor loss on one side).
The bracelet has obvious age and a fine patina. It is very wearable.
An almost identical example is illustrated in van Cutsem (2002, p. 170). Jayajar & Irwin (1956, p. 66) illustrate a related example from London's Victoria & Albert Museum which is attributed to 19th century Bombay.
References
van Cutsem, A., A World of Bracelets: Africa, Asia, Oceania, America, Skira, 2002.
Jayajar, P. & J. Irwin, Textiles and Ornaments of India, The Museum of Modern Art, New York, 1956.
van Gelder, B., Traditional Indian Jewellery: The Golden Smile of India, ACC Art Books, 2018.
Untracht, O., Traditional Jewelry of India, Thames & Hudson, 1997.