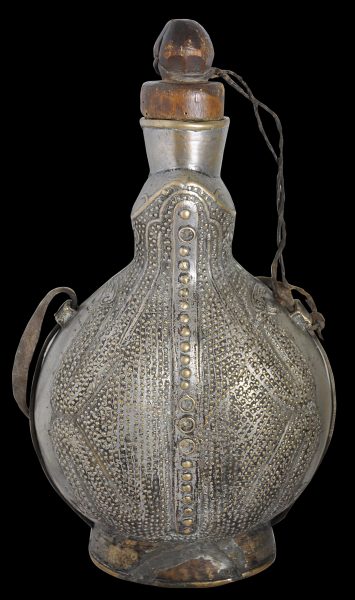 4676
Enquiry about object: 4676
Rare, Brass Toad-Shaped Flask
Tibet circa 18th century
height (with stopper): 37cm
This remarkable and rare relic from Tibet comprises a brass flask, probably for water, which has been imaginatively cast on one side as a large fanged toad or frog. The surface is pewter-like, probably from having been tinned. The form is unusual and only a few seem to be known in museums.
The rendering of the toad is naturalistic in that the creature's contours and lumpy skin are realistically rendered. The association of toads and frogs with rain, water and fertility makes the use of this motif on a flask meant for liquids apt.
The flask retains its original leather straps to allow it to be transported. These are threaded through logs on either side of the vessel and also through two apertures in the vessel's oval-ring foot. The vessel also retains its original wooden stopper (another example that has been published does not retain its stopper).
Pal (2003, p. 169) says of an illustrated example in the Norton Simon Collection that it is difficult to establish the precise time and place of manufacture of these toad vessels but suggests a likely 18th century dating. (The Norton Simon example can also be seen here.) The form is linked to the ceramic pilgrimage flasks used in China and possibly, the Tibetans became familiar with the form during the Chinese presence in Central Asia during the Tang Dynasty.
The example here is in a robust condition with ample signs of significant age. The foot has an old solder repair – perhaps a sign of the esteem that such a flask was held when in use: it was repaired rather than replaced. Overall, it is a fine example and with significant sculptural quality.
References
Pal, P., Art from the Himalayas & China: Asian Art at the Norton Simon Museum,Yale University Press, 2003.