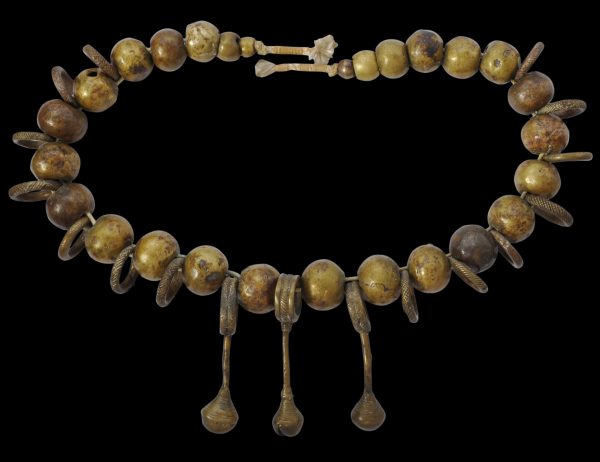 4046
Enquiry about object: 4046
Rare Cast Brass Necklace
Vere People, North-Eastern Nigeria & Cameroon 19th century
length: 69cm, weight: 1,303g
This heavy necklace comprises 27 cast spherical beads, 14 brass rings, and three brass rings with attached bells, all strung on a cotton twine. Each component has the most wonderful wear and patina – the age of this item is very clear.
It is the product of the little-known Vere people, (also known as Duru-glass) – a group who inhabit Central Africa in north-eastern Nigeria and on the border with Cameroon. The group has almost died out – in 1890, they numbered around 60,000, and by 1970, their number was believed to be around at just 35,000. Approximately, a third are Muslim (Olson, 1996; Bacquart, 1998, p. 105).
According to Bacquart (1998, p. 105), traditionally, the Vere lived in round huts grouped in fortified cities and their artistic output was "limited to basketry and rare metal objects such as necklaces." The item here is one of those rare necklaces.
A similar necklace is illustrated in Bacquart (1998, p. 105), and two related 'belts' are illustrated in Leurquin (2004, p. 38-39).
References
Bacquart, J. B., The Tribal Arts of Africa, Thames & Hudson, 1998.
Leurquin, A., A World of Belts: Africa, Asia, Oceania, America from the Ghysels Collection, Skira, 2004.
Olson, J.S, 'Duru-Glass', in The Peoples of Africa: An Ethnohistorical Dictionary, Greenwood Publishing Group, 1996.