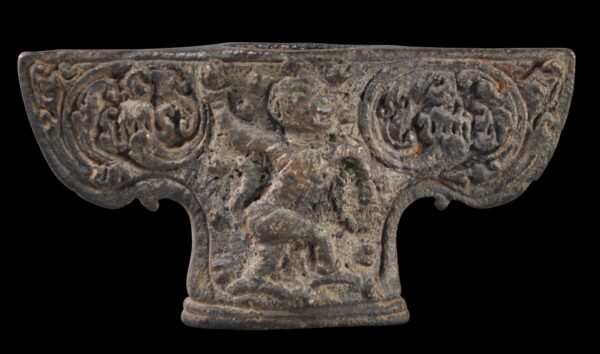 8632
Enquiry about object: 8632
Rare, Central Javanese Bronze Hanuman Kris or Mirror Handle Fitting
Central Java, Indonesia circa 9th century
width: 8.7cm, length: 4.3cm, depth: 1.7cm, weight: 143g
Provenance
Estate Collection of Tom White MBE, a former UK diplomat who served in Southeast Asia in the 1960s & 70s.
This cast and chiselled bronze item from ancient Java served either as a fitting from a kris or dagger handle, or perhaps from a mirror handle.
Both sides are elaborately decorated – one with a figure of Hanuman, the monkey general in the Ramayana, the Indian epic imported to Java from India; and the other with a large central lotus motif. Both motifs are surrounded by tight lotus scrolling.
This tight lotus scrolling is similar to that carved in stone at the 9th century Candi Mendut and Borobodur complexes in central Java. The use of these motifs helps to date the handle fitting to the 9th century.
The Ramayana came to Java in either the 8th or 9th century. This fitting therefore is among the earliest represents of Hanuman on Java.
The fitting is stable, and has an incontrovertible patina. The representation of Hanuman on an item of Javanese bronze from this period is very rare.
References
Kempers, A.J.B., Ancient Indonesian Art, CPJ ven der Peet (Amsterdam), 1959.
van Lohuizen-de Leeuw, J.E., Indo-Javanese Metalwork, Linden-Museum Stuttgart, 1984.
Lunsingh Scheurleer, P., & M.J. Klokke, Ancient Indonesian Bronzes: A Catalogue of the Exhibition in the Rijksmuseum Amsterdam with a General Introduction, E.J. Brill, 1988.