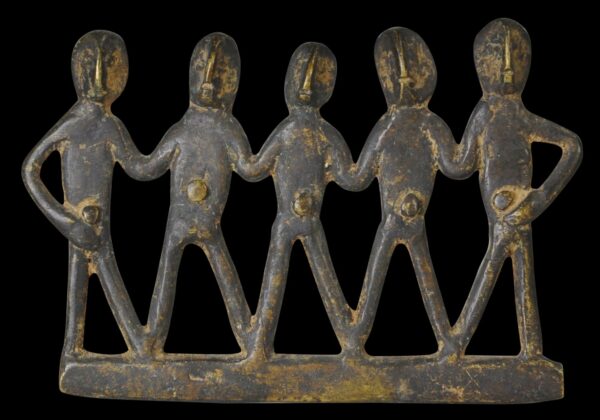 9376
Enquiry about object: 9376
Rare Dogon Brass Talismanic Pendant Showing Five Ancestor Figures
Burkina Faso or Mali circa 19th century
height: 7.3cm, width: 10.8cm, weight: 153g
This cast brass pendant shows five ancestor figures. It is from the Dogon people or a nearby group such as the Tusyan. Such pendants were worn as talismans meant to invoke the protection of the ancestors.
A related pendant showing four ancestor figures is illustrated in Borel (1994, p. 91) with the comment that 'a specimen with four figures is rare'.  The pendant is attributed to the Tusyan people of Burkina Faso – the Tusyan are a tiny ethnic group numbering fewer than 40,000 people today.
Dogon blacksmiths (or at least the blacksmiths who worked on behalf of the Dogon – they might have been itinerant and serviced several groups) were highly accomplished at using the lost wax process to cast small figures such as this example.  The copper itself was brought into the Dogon areas via trans-Saharan trade networks.
The Dogon mostly were farmers. Their ancestors came from southwest Mali and northeast Guinea that was home to the 13th century Mali empire. They migrated after the empire's collapse to the cliffs of the Bandiagara plateau, which provided good protection from slave raiders coming from the desert. The arrival of the French in 1893 saw the end of the slave raids and the Dogon subsequently expanded to the plains around the plateau. Traditionally the Dogon had elaborate cosmological beliefs and spectacular rituals. Communication with the gods was achieved through a variety of means including through sacrifices.
Th pendant here has a beautiful, tranquil simplicity and a splendid, worn patina.
References
Borel, F., The Splendour of Ethnic Jewelry: From the Colette and Jean-Pierre Ghysels Collection, Thames & Hudson, 1994.
Brincard, M. (ed.), The Art of Metal in Africa, The African American Institute, 1982.