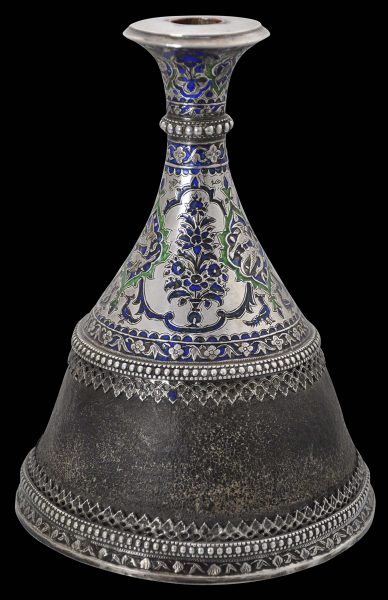 3026
Enquiry about object: 3026
Rare Indian Lucknow Enamelled Silver & Leather Hookah Base
Lucknow, India 18th century
height: 20.2cm, diameter of base: 14.8cm, weight: 611g
This hookah base is important for several reasons. It is the first time that such a form with the combination of silver, enamel and leather has been published. The form is relatively early and shows Persian influence. And the enamel work is in remarkably good condition. The enamel work is also of a high standard – the motifs flow and do not have the stiff formulaic composition often seen in other North Indian enamel work. The work is similar to that on a tazza illustrated on the front cover of Terlinden (1987).
It comprises a wide base with a hammered copper bottom, silver sides that taper towards a long, thin neck which opens out to a flat, wide-lipped mouth. The major-part of the base is covered in tight leather, with one carefully sewn seam to one side.
The silver edging that holds the leather in place is pierced, elaborately crenulated and has remnants of enameling.
The champleve enamel over the silver and most particularly over the shoulder and neck is in the form of three large and three smaller cartouches and is in blue and green. It is finely done and shows birds, pairs of birds amid and bordered by lush Ottoman-inspired Mughalesque floral sprays, and is typical of the best of Lucknow enamel work.
Lucknow emerged as an important centre for courtly crafts such as fine enamelling on silver. It was the capital of the state of Oudh which was established in 1750. The flourishing arts scene was largely on account of the patronage of the local, wealthy Nawabs of Oudh. By the mid-19th century, Lucknow was India's largest and wealthiest city. A stupendous public building programme on the part of the local rulers transformed the city into an almost mythical destination with one grand edifice after another.
Hookah bases are for smoking tobacco but tobacco is not indigenous to India. The Portuguese generally are credited with its introduction to the sub-continent in the sixteenth century. Hookah bases became an ever-present motif in north Indian paintings and miniatures by the 1770s.
The example here is in excellent condition, particularly given its age. Notwithstanding the age, there is little loss to the main body of the enamel-work. Overall, this is a very fine and rare piece.
References
Dye, J.M., The Arts of India: Virginia Museum of Fine Arts, Philip Wilson Publishers, 2001.
Markel, S. et al, India's Fabled City: The Art of Courtly Lucknow, LACMA/DelMonico Books, 2010.
Sharma, R.D. & M. Varadarajan, Handcrafted Indian Enamel Jewellery, Roli Books, 2004.
Terlinden, C., Mughal Silver Magnificence,Antalga, 1987.
Zebrowski, M., Gold, Silver & Bronze from Mughal India, Alexandria Press, 1997.