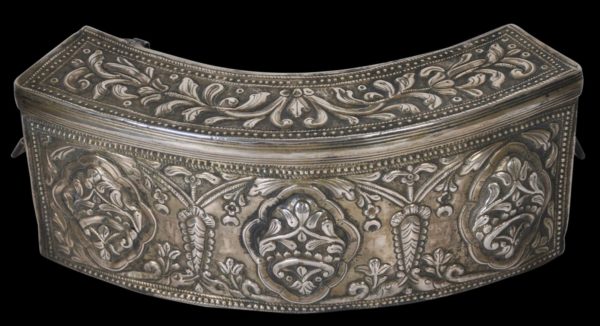 5960
Enquiry about object: 5960
Rare Ottoman Turkey or Balkans Silver Cartridge Box for the Waist
Ottoman Balkans early 19th century
length: 19.3cm, height: 7.7cm, thickness: 4.2cm, weight: 261g
This box (known in Turkish as a palaska) is of repoussed silver sheet over thin wooden lining, and would have been used by a soldier or more likely, an officer, to store gun cartridges. It is from the Ottoman Balkans, most probably Serbia, Bulgaria or maybe Albania, or perhaps Ottoman Turkey itself.
The form is particularly rare – rather than being of square form is is curved and long, design to fit against the wearer's hip.
The outward side is decorated with three raised quatrefoil cartouches decorated with floral work. These are separated by upside-down cypress-like motifs. Beneath these are the heads and tails of curious long-nosed creatures. The design overall, is influenced by European rococo.
The lid and base are decorated with foliage scrolls. The sides are decorated with similar repousse work.
The reverse side is engraved with fuschia-like flower motifs around a central Solomon's Seal which is inside a roundel of petals. Solomon's Seal (known elsewhere as the Star of David) is a symbol common across the Near East and likely performs a protective or talismanic function for the wearer.
The sides are fitted with silver loops to allow the box to be attached to the wearer's belt. The reverse has two loops but these attach to the lid so that the lid can be opened and not lost.
Koc et al ( 2007, p. 39) illustrates a silver dish in the Turkish and Islamic Art Museum, Istanbul, which has very similar engraved decoration to that on the reverse of this box, including a prominent central Solomon's Seal. The dish is attributed to 19th century Balkans.
The box is in its original condition. It might have been gilded. The bottom has some cracks to the silver sheet, but otherwise the box is in very fine condition given its age and use.
The final image shows an example in the Hermitage Museum in St Petersburg Russia. This example was taken from the armoury at Tsarskoye Selo Palace outside St Petersburg in 1885-86. The Hermitage attributes it to Ottoman Turkey, first half of the 19th century.
References
Koc, A., et al, Istanbul: The City and the Sultan, Nieuwe Kerk, 2007.