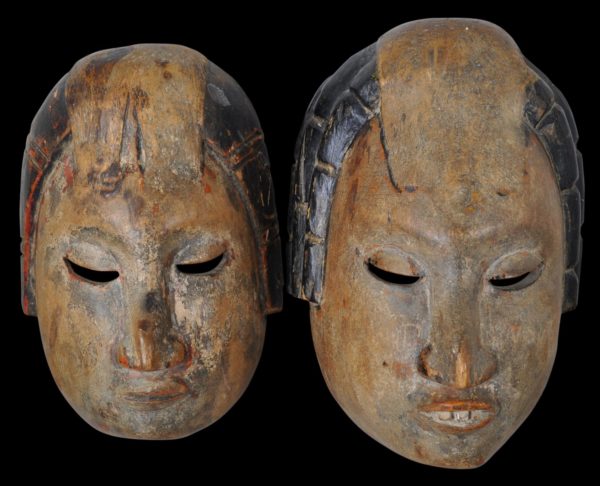 6103
Enquiry about object: 6103
Rare Pair of Ibibio Nigerian Carved Wooden Masks
Ibibio People, southern Nigeria early 20th century
heights: 28cm & 26cm
These two curious masks are from the Ibibio people of southern Nigeria. Each is carved from a single piece of light wood and delicately coloured with natural and other ochres.
Both masks have been carved with aquiline noses; fine, red lips; slanting, pierced eyes; strong jawlines; and shaved, bulbous foreheads. Each has raised, dark hair which falls down the sides.
The Ibibio developed a more naturalistic way of rendering the human face. The features are fine and thus are intended to portray spirits whose physical beauty reflects their graciousness and high moral standing. This is in contrast to masks that are courser and more ugly and thus are designed to reflect more malevolent spirits.
The masks here are almost suggestive of influence from the topeng masks of central Java or even the noh masks of Japan. It is not impossible that there might have been such direct influence given trading patterns and cultural exchange that reached most of the world by the 19th century.
The larger of the two masks has teeth visible through parted lips.
The smaller of the two has what is possibly a Nsibidi  symbol carved into the forehead. The larger might also have had such a symbol but it has worn away. (Nsibidi symbols are a type of pictogram form of writing used by the Ibibio and related groups.)
The masks were most likely used in conjunction with ritual associated with the Ekpo society within the broader Ibibio population. Members of the society acted as messengers of the spirits and helped guide political decision making among the Ibibio.
The masks are designed to fit over a dancer's face rather than sit atop his head. Their sides are pierced to allow them to be attached to textile that would have been pulled over the remainder of the wearer's head.
Both masks have excellent patina, wear and obvious age. There is some loss'chipping to the edge of the larger mask of the two but this is not readily apparent form the front of the mask.
References
Lebas, A. (ed.), Arts of Nigeria in French Private Collections, 5 Continents, 2012.