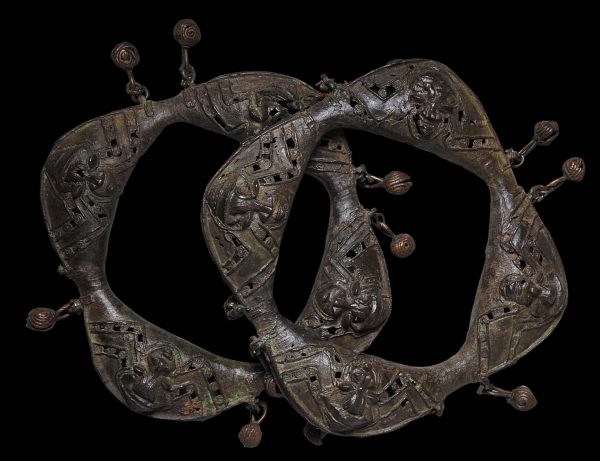 3091
Enquiry about object: 3091
Rare Pair of Ijebu-Yoruba Bronze Ceremonial Anklets
Nigeria 18th century
diameter: 19cm
Provenance
private collection, Isle of Wight, UK.
This pair of anklets is important for several reasons. The pair has an incontrovertible patina – their significant age is indisputable. Their form is rare and instructive – the well-defined human faces used to decorate each of them demonstrates their importance as ritual objects and the importance of the individual for whom they were made. And also, the pair is indeed a pair. Few examples have survived and almost none have survived as true pairs.
They each comprise four rounded elements arrayed in a square format, hollow-cast in bronze, and with each element decorated in high relief with a well-defined human face. Pierced geometric patterns lay on each side of each head. The four faces on each anklet have been cast with opposed crescent marks on their foreheads. Often this is a sign of Osugbo or Ogboni, the Ijebu society of female and male elders who served as the rule-makers as well as the highest level of judiciary (Ross, 1994, p. 76). See Drewal & Schildkrout (2009, p. 144) for a bronze sculpture of a figure which also has these markings on the forehead to signify Osugbo association.
Four sets of two pendant bells are suspended from each anklet (one bell is missing from each anklet).
Several related examples are known. See here for Sotheby's Paris 'Arts d'Afrique et d'Océanie', December 14, 2011, lot 30 for a related single anklet. Also, a single anklet is in the Jerome L. Joss Collection at UCLA. Another single example but with one of the four head elements and all the pendant bells missing was in the Goerge Oritz Collection and offered as lot 43 in Sotheby Parke Bernet's London sale 'The George Oritz Collection of Primitive Works of Art, June 29, 1978.
The Ijebu – located in southern Nigeria – were the first Yoruba-speaking people to be mentioned by European explorers, from the early sixteenth century. They developed before 1700, probably under the influence of the Kingdom of Benin, a culture of metalworking in bronze. It, like their broader society, was shaped by the powerful Ogboni or Osugbu secret society.
Anklets such as those here were reserved for the exclusive use of members of the aristocracy, and were worn at the induction or the funeral of a king or a leader. They are among the finest examples of old-style Yoruba metalwork.
They are in a stable condition. There are holes where the metal has worn thin but this is part of their age and patina. Overall, this is an important pair of museum-quality fineness and rarity.