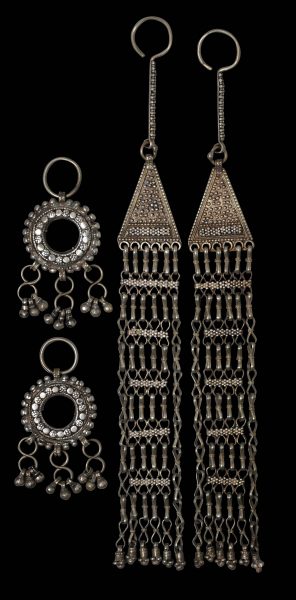 3857
Enquiry about object: 3857
Rare Set of Woman's Silver Hair Ornaments (Mashaq-ir)
Jewish Community, Saada region, Yemen early 20th century
length of both long hair ornaments: 33.5cm; total weight: 332g
Sets of silver hair ornaments such as the set here were worn by Jewish women in the Saada area of Yemen. Made by local Jewish silversmiths, they were worn suspended from a woman's head covering or bonnet, on special occasions.
The long ornaments comprise a silver loop and stem that is decorated with applied silver granulation work, followed by a triangular plaque that is similarly decorated from which six long silver chains, the middle four of which are co-joined, are suspended. Each of the six chains terminate with a silver bead with applied spheres to suggest a mulberry fruit.
The round ornaments comprise a thick heavy silver disk with a hollow middle and decorated with applied silver plaques and disks. Three tassels are suspended from each with three silver beads attached.
A set of four similar elements, that is less elaborate but with almost identical construction, is illustrated in Ransom (2014, p. 64).
Most Yementite Jews now live in Israel, with a smaller number having settled in the US. Between June 1949 and September 1950, the overwhelming majority of Yemen's Jewish population relocated to Israel in Operation Magic Carpet. Today, only a handful remain in Yemen. Yemenite Jews had a unique religious tradition that marked them out as separate from Ashkenazi, Sephardi and other Jewish groups, and tended to be described as 'Mizrahi' Jews.
The set here is in fine condition. It is of solid silver and there are no losses. The set has a fine patina and obvious age.
References
Ransom, M., Silver Treasures from the Land of Sheba: Regional Yemeni Jewelry, AUC Press, 2014.