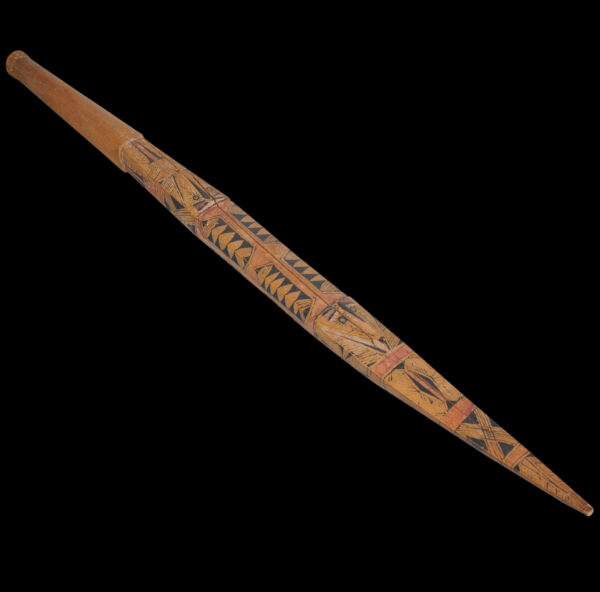 2746
Enquiry about object: 2746
Rare Solomon Islands Ceremonial Child's Dance Wand or Staff (Napa)
Santa Cruz, Solomon Islands circa 1900
length: 75.5cm
– scroll down to see further images –
This dance wand or club known as a napa is fashioned from a single piece of blonde wood. It's relatively short size indicates that it was for use by a child, which makes it comparatively rare. Of elongated form, tapering to a point at one end, it is decorated with red, white and black ochre – colours reserved for the decoration of ritual and status objects. The form is that of a stylised canoe, with two opposing abstracted ancestor heads.
Possibly, the wand is from either Ndende or Utupua Island in the Santa Cruz group. The people of Utupua claim that the form of the wand originated with them, according to Waite and Conru ( p. 123). Its creation is attributed to a supernatural being called Bamuda who transmitted to male recipient the canoe shape along with the songs and dances associated withnapa wands. That individual's descendants, including children, have traditional rights to perform with the wands.
The example has an aged, light brown patina. There is an old split that runs along the top of the wand, and one to the handle. Hurst (1996, p. 58) mentions that part of the Napa ritual involved the participants banging their wands or clubs together which accounts for the splits often seen in them.
But overall, the wand is in a sturdy, stable condition. The colours and motifs are still clear and bright, compared with other extant examples. The wand was acquired in the UK, and most probably has been in the UK since colonial times.
Similar but longer dance wands were offered at Sotheby's London, 'The Charterhouse Collection', November 5, 2002 (lot 21); Sotheby's Paris, 'Important Art d'Afrique et d'Oceanie; June 11, 2008 (lot 50); and Bonhams, 'Fine African and Oceanic Art', May 15, 2008 (lot 576).
References
Herreman, F., Oceanie, Wereldmuseum, 2011.
Hurst, N., Power and Prestige: The Arts of Island Melanesia and the Polynesian Outliers, Hurst Gallery, 1996.
Waite, D. & K. Conru, Solomon Islands Art: The Conru Collection, 5 Continents, 2008.