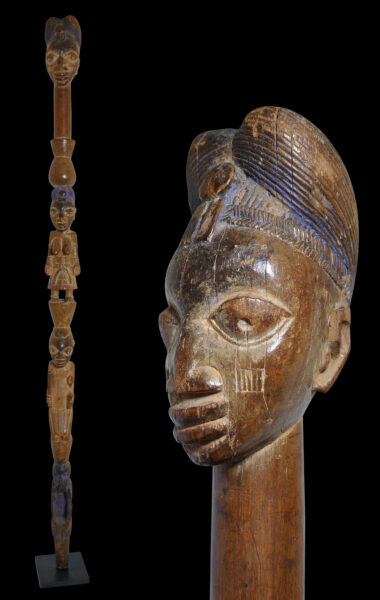 2218
Enquiry about object: 2218
Rare Yoruba Carved Wooden Processional Staff
Yoruba People, Nigeria 19th-early 20th century
length: 108cm
Provenance
private collection, London; and previously, a private European collection.
This is a stunning object. It is rare, well-carved and has a superb patina. It is a processional staff most probably for a woman's cult, or for the Egungun, a type of Yoruba ritual masquerade. The staff being topped by a queen-like figure suggests that it was meant to be held by a very high-ranking figure, if a not a queen herself. According to Celenko (1983, p. 104), 'Multi-figured staffs of this type, which are carried by women in the rituals of various cults, have been documented among the Ketu and other subgroups living along the Nigeria/Benin border.'
The base of the staff comprises a wooden pike to allow the staff to be driven into the ground partway through a ceremony to allow it to stand upright unaided. An ape-like figure sitting with legs raised and arms supporting its head forms the next level up. The figure is eroded from age and contact with the earth. It is coloured with remnants of Rickett's Blue.
A kneeling male figure forms the next level. He holds a club or staff in one hand and an unidentified item (some loss) in his other. He wears a waist cloth and anklets and has a well-carved face with typically Yoruba features.
A young female figure comprises the next level up. She wears an elaborately carved coiffure coloured with Rickett's Blue, a long hooped and striped dress tied at the front with a ribbon, and bracelets and arm bands. Her breasts are exposed and prominent. A small woven bag has been carved onto her back. She holds items in both hands.
A bulbous, gourd-like jar sits on her head and from this rises an unadorned column atop which sits an extremely well-carved female's head with a high, elaborate coiffure (again coloured with Rickett's Blue). The face is long, with protruding eyes, fleshy, protruding lips and multiple scarification on her cheeks. The head is that of a queen or some other aristocratic figure.
A related staff formed lot 296 in the Sotheby's 1990 sale of the Harry A. Franklin Family Collection of African Art. Another is illustrated in Celenko (1983, p. 104), but essentially relatively few such staffs are illustrated in the literature or seen in museums suggesting their scarcity.
The example here is in fine condition. There are some minor losses to the extremities, but it has a warm and lustrous patina. It has superb sculptural form and wonderful presence.
References
Celenko, T., A Treasury of African Art from the Harrison Eiteljorg Collection, Indiana University Press, 1983.
Sotheby's. 'The Harry A. Franklin Family Collection of African Art', New York, April 21, 1990.