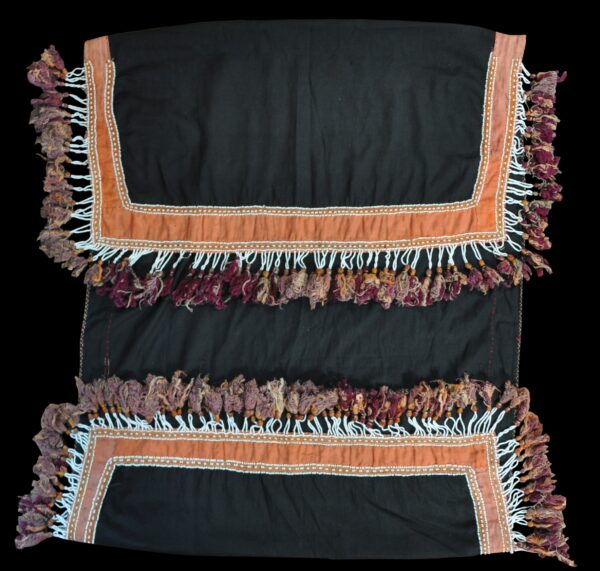 9347
Enquiry about object: 9347
Saudi Arabian Beaded & Tasselled Head Covering (Qarqoosh)
Bani Malik Tribe or Bal Harith Tribe, Hijaz region, southern Saudi Arabia early 20th century
width (without tassels): approximately 63cm, length (without tassels): approximately 132cm, weight: 493g
Reserved
Provenance
private UK collection, collected in Saudi Arabia in the 1970s
This shawl-like headdress is known as a qarqoosh and is from the Bani Malik Tribe, and possibly the neighbouring Bal Harith Tribe.
It is of rectangular form, of black cotton fabric, and is decorated on each end with peach-coloured panels, rows of pure white glass beads known as khuruyan and dozens of tassels suspended from strings sewn with khuruyan beads.
The colours of this qarqoosh are more muted than many Bani Malik Tribe textiles suggesting that the head covering might also be from the neighbouring Bal Harith Tribe.
'Bani Malik' (or 'Sons of Malik') is one of the major Arab tribes on the Arabian Peninsula and claim to be the descendants of Malik al-Ashtar al-Nakh'ei who fought alongside Ali ibn Abi Talib, the cousin of the Prophet Muhammad. The tribe is from Sarawiyah, which is east of Al Lith and south of Taif, between the areas occupied by the Bal Harith Tribe and the Zahran Tribe. Traditionally, the area had buzzing markets where livestock, grain, honey and other goods were traded. This explains the exuberance of Bani Malik Tribe costume – trade meant wealth to afford the costly embellishments but trade also meant that the embellishments – the beads and the brightly-coloured thread – was available.
The qarqoosh here is in very good condition. Several tassels are deficient but this is barely apparent amid all the profusion.
References
Alghalib, L.F., H. Alireza & R. Wilding (eds.), Traditional Costumes of Saudi Arabia: The Mansoojat Foundation Collection, ACC Art Books, 2021.
Suleman, F., Textiles of the Middle East and Central Asia: The Fabric of Life, The British Museum, 2017.
Wearden, J., Decorative Textiles from Arab & Islamic Cultures: Selections from the Al Lulwa Collection, Paul Holberton Publishing, 2015.