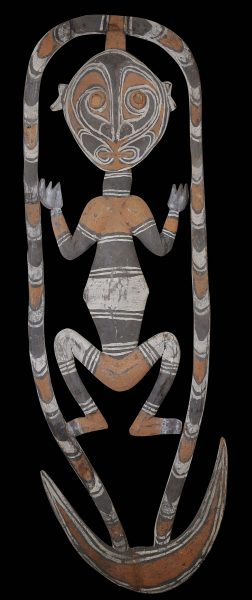 2187
Enquiry about object: 2187
Sepik Samban Hook Figure
Italmul People, Middle Sepik River Region, Papua New Guinea first half of the 20th century
height: 97cm, width: 30cm
Provenance
Francis de Sales McHugh Collection, and thence by descent, collected by de Sales McHugh in the first half of the 20th century.
– scroll down to see further images –
This well carved and highly decorative hook figure represents an ancestral spirit. It is coloured, front and back, with natural ochres. Such suspension hooks served both practical and ceremonial functions. They were suspended from the rafters of the clan house by means of cords and were used to hold string bags in which food, clothing, and other items were placed so that they would be out of reach from dogs, rodents and other vermin. The bags were hung from the hook-shaped prongs at the base of the figure.
Some suspension hooks, particularly those that incorporated an image of thewaken, the most powerful of the Iatmul supernatural beings, served as hosts through which the supernatural beings they depicted could be consulted. Men gathered within the ceremonial house to consult the waken through the hook bearing its image prior to embarking on a raid or hunting expedition. Chickens, betel nut, or other offerings were hung from the hook and then consumed by a human attendant who went into a trance during which the waken spoke through him, providing advice.
The item was collected in the first half of the twentieth century by Francis de Sales McHugh, who was born in Queensland, Australia in 1896, and who worked in New Guinea as a foreman of works for the Queensland Department of Posts and Telegraphs building regional post offices. It was during this time that he collected this item. It passed to his daughter who now lives in the UK, and in whose possession it had remained since.
The hook has several old cracks and breaks with old joins, due to inevitable wood shrinkage, and as is typical. But otherwise there are no other losses. Overall, the item is a fine and very visually appealing object.Francis de Sales McHugh Collection, and thence by descent, collected by de Sales McHugh in the early 20th century.
References
Bounoure, V., Vision d'Oceanie, Musee Dapper, 1992.