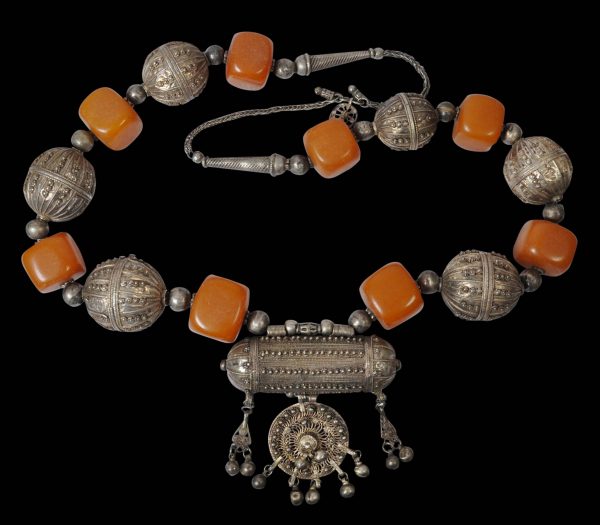 3966
Enquiry about object: 3966
Large Necklace of Silver Beads & Genuine Antique Amber Beads with Amulet Box (Hirz)
San'a, Yemen early 20th century
total length (circumference as worn): 96cm, total weight: 381g, each amber bead is around 2.5cm square
This wearable necklace of eight large beads of antique, solid amber shaped as cubes (these have been tested and are genuine amber); six large, hollow silver beads; and an amulet box (hirz) with a filigree pendant medallion, is from the San'a region of Yemen.
The amulet box does not appear to open but would have contained some protective Koranic verses.
The amber and large silver beads are all separated by smaller silver beads.
The large beads are all decorated with fine wire ribbing and applied spangles. They have remnants of gilding (gold-plating) and some have applied silver plaques with the mark of the maker.
The necklace has obvious age, a fine patina, and the expected minor imperfections that come from age and wear.
References
Daalder, T., Ethnic Jewellery and Adornment: Australia, Oceania, Asia, Africa, Ethnic Art Press/Macmillan, 2009.
Ransom, M., Silver Treasures from the Land of Sheba: Regional Yemeni Jewelry, AUC Press, 2014.