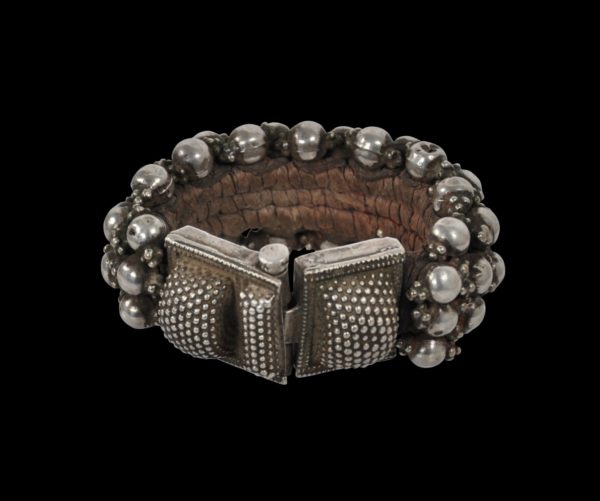 5872
Enquiry about object: 5872
Unusual Indian Silver Bracelet (Gajre)
India, probably Rajasthan or Gujarat 19th century
internal diameter: 4.6cm, height: 3cm, weight: 107g
Provenance
private collection, England
This flexible bracelet has a leather base onto which have been attached silver balls (with attendant granulation work), and curved silver panels that are seemingly composed of dozens of tiny spheres. These panels probably are meant to imitate the silver spheres (gajre) that are rigidly attached by means of a silver wire to the body of the bracelet on similar bracelets that are themselves designed to imitate bracelets to which dozens of tint pearls are tightly attached. The clusters of seed pearls used in the more extravagant versions of this bracelet were said to emulate bunched jasmine buds. (See Bala Krishnan, 1999, p. 146, for an example.)
The mixing of the two aspects – the larger silver spheres and the panels with small ball-like decoration is unusual.
The bracelet opens by means of a pin that is pulled out to release a hinge.
The bracelet has excellent age and wear.  It is wearable, for a small lady's wrist.
References
Bala Krishnan, U.R., & M.S. Kumar, Dance of the Peacock: Jewellery Traditions of India, India Book House Ltd, 1999.
Barnard, N., Indian Jewellery, V&A Publishing, 2008.
Utracht, O., Traditional Jewelry of India, Thames & Hudson, 1997.