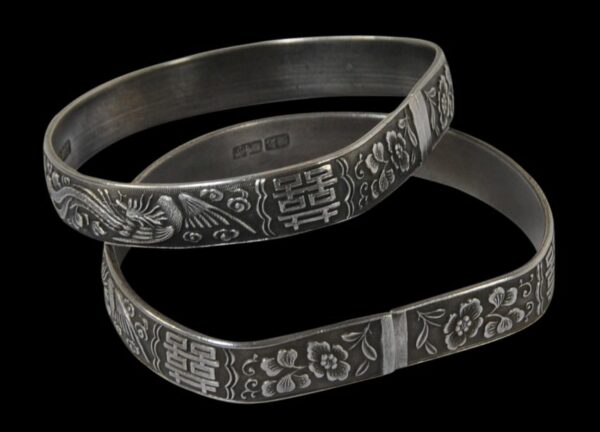 6618
Enquiry about object: 6618
Pair of Chinese Silver Marriage Bracelets
China 19th century
internal diameter: approximately 6.7 x 5.9cm, thickness: 1cm, eight: 79g
This fine pair of solid silver 'C'-form bracelets was used in China as part of the marriage proposal rituals of young men in respect of prospective brides.  A prospective bridegroom, via a middleman, would present such a pair to a prospective bride. A card proposing marriage would arrive at the bride's house and would be accompanied by the pair of bracelets and perhaps other gifts. The bracelets and other gifts would be accepted if the marriage proposal was accepted.
The corners of each bracelet are with chased with 'double happiness' symbols. They are also chased with peonies and each with a dragon and a phoenix. The use of these is highly appropriate – the dragon traditionally represents the groom and the phoenix the bride – so two opposites that compliment one another.
The insides of each bracelet are marked with the Chinese ideograms for 'Yu Bao' a brand or shop name and then 'Wen Yin' for 'pure silver'.
Such bracelets were used by Han Chinese and some of China's minority groups as well, such as the Miao.
Related pairs are illustrated in van Cutsem (2002, p. 242).
The bracelets are in excellent condition.
References
van Cutsem, A., A World of Bracelets: Africa, Asia, Oceania, America, Skira, 2002.
Duda, M., Four Centuries of Silver: Personal Adornment in the Qing Dynasty and After, Times Editions, 2002.