– scroll down to see further images –
This splendid betel leaf holder or vase has been chased in solid silver and is decorated on both sides and on its foot in high relief with bold, luscious flowers typical of 17th century Dutch silverwork.
The holder dates to between 1680 and 1700 and was made in Batavia, in the Dutch East Indies, in what is now Indonesia. Quite possibly, it was originally intended for a local expatriate Dutch client.
Veenendaal (2014, p. 106) says that large flowers on silver continued to be used on silver up until around 1690, whereas smaller flowers such as that used on the holder in the Rijksmuseum below tended to be used after 1720.
Unusually, the plain sections of each sides are faintly engraved with Javanese script, and the front of one side is impressed near the mouth rim with a Dutch tax mark for foreign-made silver. This mark was in use between 1814 and 1953, suggesting that at some time during this period, this item was sold within the Netherlands and so was presented for assaying so that it could be legally sold as silver.
Dutch colonial silver betel leaf holders are rare enough but this one is particularly rare on account of the (earlier) boldness of its motifs. We aware of one other with similar such bold floral designs which is illustrated in Veenendaal (2014, p. 106) and similarly attributed to 1680-1700 Batavia.
Voskuil-Groenewegen (1998) attributes this type of work to late seventeenth century Batavia or the Coromandel Coast, but Batavia seems more likely. Similar work can be seen on Batavian furniture carved around the same time, and on other examples of silver.
Betel, a mild social narcotic, was used widely in South and Southeast Asia. Dutch colonial administrators and their wives adopted the habit of chewing betel or sirih in the seventeenth and eighteenth century and commissioned for themselves betel sets that were similar to those used by indigenous rulers.
The betel leaf holder is in excellent condition and is without repairs or additions.
Below: This colonial betel leaf container from Batavia is in Amsterdam's Rijksmuseum. (Photographed in July 2013.)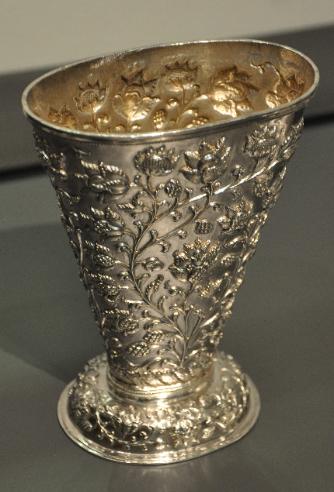 Below: This extraordinary carved cabinet (1640-1660) in Rotterdam's Museum Boijmans Van Beuningen is decorated with floral patterns in relief that relate to the decoration the betel leaf holder here. The cabinet either is from Batavia or perhaps southern India or Sri Lanka. (Photographed in July 2013.)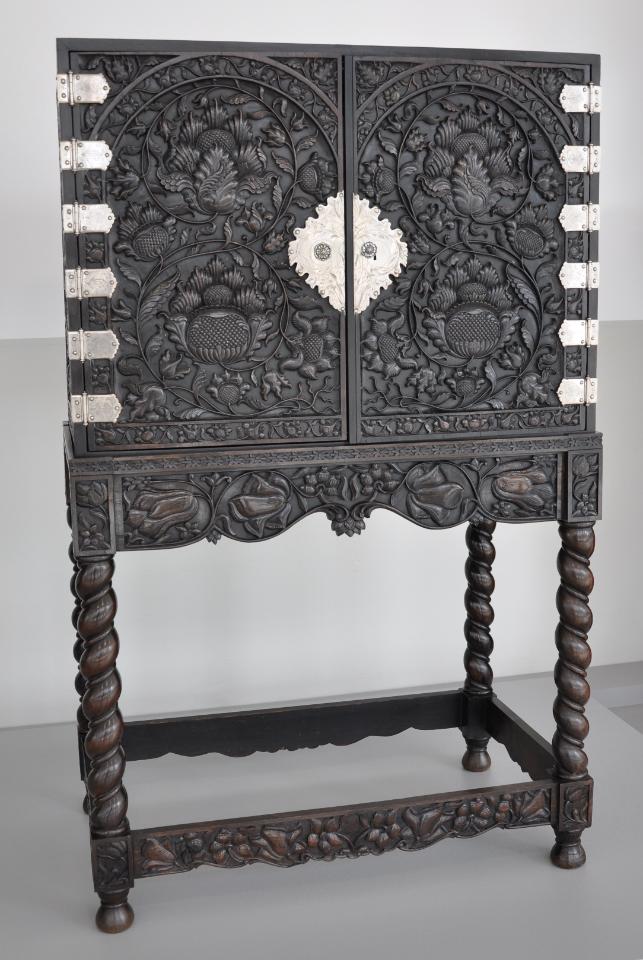 References
Avieropoulou Choo, A., Silver: A Guide to the Collections, National Museum Singapore, 1984.
Eliens, T.M., Silver from Batavia/Zilver uit Batavia, Gemeentemuseum Den Haag/W Books, 2012.
Haags Gemeentemuseum, V.O.C. – Zilver: Zilver uit de periode van de Verenigde Oostinische Compagnie 17de en 18de eeuw, 1983.
Tchakaloff, T.N. et al, La Route des Indes – Les Indes et L'Europe: Echanges Artistiques et Heritage Commun 1650-1850, Somagy Editions d'Art, 1998.
Veenendaal, J., Asian Art and the Dutch Taste, Waanders Uitgevers Zwolle, 2014.
Voskuil-Groenewegen, S.M. et al, Zilver uit de tijd van de Verenigde Oostindische Compagnie, Waanders Uitgevers, 1998.