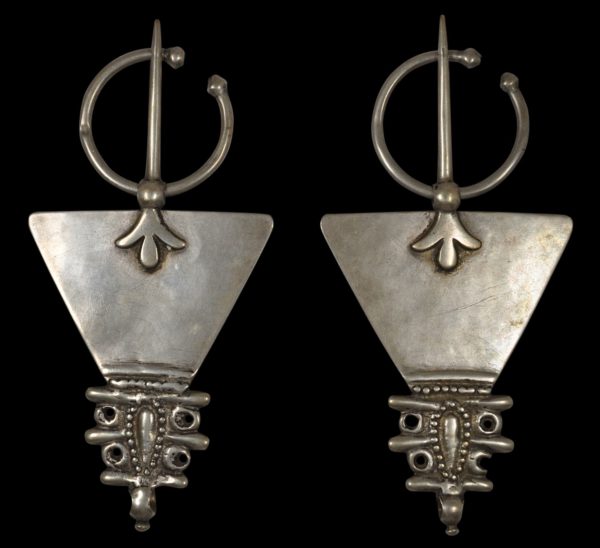 6474
Enquiry about object: 6474
Moroccan Pair of Silver Fibulae (Tisernas)
Berber People, Draa Valley, Morocco 19th-20th century
length (each): 14.2cm, combined weight: 164g
Provenance
European art market
This fine pair of cast fibulae or cloak pins are of thickly cast and chiselled silver. They are heavy in the hand, suggesting the wealth of the owner, due to the amount of silver used to make them. They have wonderful wear and a fine patina.
This style is referred to as dar n ouchen or 'foot of the jackal' – a reference to the form of their lower sections.
The pair come from the Berber People of the Draa Valley, Morocco. Local Jewish women also wore similar silver fibulae.
They were used by Berber women to attach cloaks about their shoulders. Chains would have connected the two fibulae which would have hung down the chest of the wearer almost necklace like.
Similar examples are illustrated in Amel (1998, p. 231 & p. 233), Prolongeau-Wade (2008, p. 139), Hoek (2004, p. 24) and Rabate (2015, p. 139).
References
Amel, P., et al,  Splendeurs du Maroc, Musee Royal de l'Afrique Central, Belgium, 1998.
Hoek, C., et al, Ethnic Jewellery: From Africa, Asia and Pacific Islands, Pepin Press, 2004.
Prolongeau-Wade, S., Voyage des au Pays Fibules, Editions du Regard, 2008.
Rabate, M., Bijoux du Maroc: Du Haut Atlas a la Vallee du Draa, ACR Edition, 2015.