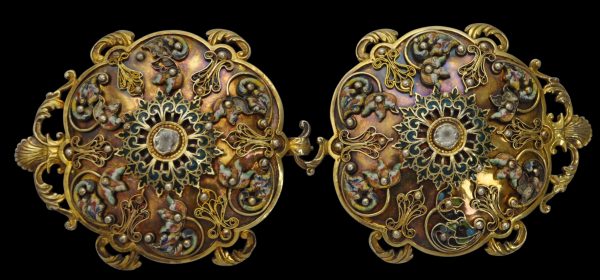 4666
Enquiry about object: 4666
Silver-Gilt Belt Buckle with Polychrome Enamel & Filigree
Ottoman Turkey or regions, probably Armenian Community 18th century
length across: 16.2cm, height: 6.5cm, weight: 90g
Provenance
private collection, UK
This very charming two-part belt buckle is almost certainly from the Armenian community of Ottoman Turkey. It is of gilded or gold-plated silver with applied gilded silver filigree, fields of polychrome enamel and a central faceted glass or crystal stone inset in the middle of each half.
The decoration includes delicate Ottoman-inspired tulip blooms, coloured with cream, pink and blue enamel.
A related Armenian-Ottoman gilded silver bowl with enamel work is illustrated in Hassiotis et al (2010, p. 151).
The traditional dress of Ottoman-influenced people often incorporated large and showy buckles. This example probably was intended for a woman. Ottoman empire rulers and warriors wore belts and elaborate, over-sized buckles as symbols of their power and rank. The fashion for such ostentatious belts was largely over by the mid-19th century.
The example here is particularly pleasing with its patina. There are losses to the enamel work here and there. There are no losses to the silver or filigree. There are no obvious maker's or assay marks.
References
Hassiotis, I.K., et al., Aspects of Armenian Art: The Kalfayan Collection, Museum of Byzantine Culture, 2010.