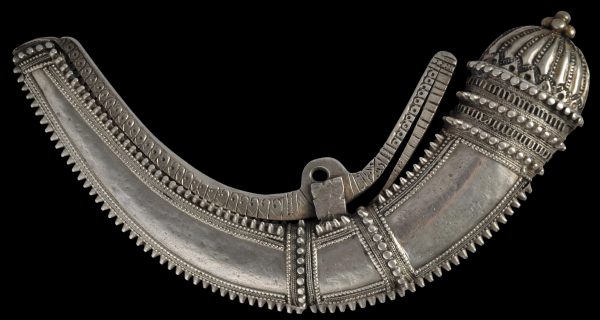 2942
Enquiry about object: 2942
Omani Silver Gunpowder Flask (Talahiq)
Oman 19th century
length: 19cm, weight: 248g
This chiselled, solid silver, flattened gunpowder bottle or flask, known as a talahiq, is from Oman and is designed to slide into the belt of a warrior to accompany his musket. It has a domed, almost architectural quality and is decorated with numerous rows of granulation work, filigree and, around the edge of the body, a single row of applied conical spikes.
Powder is released from the container by squeezing a lever which reveals a spout.
The shape of the flask is based on an animal horn, the traditional container for gunpowder. A similar example is illustrated in Hoek (2004, p. 64).
The example here has an excellent patina. There are some minor losses to the filigree detailing here and there. Importantly, the age and the fact that the item has been used are both obvious.
References
Hoek, C., et al, Ethnic Jewellery: From Africa, Asia and Pacific Islands, Pepin Press, 2004.