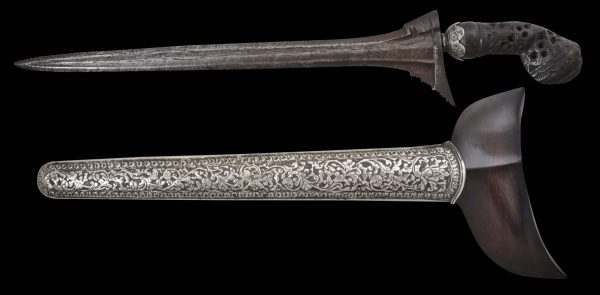 4922
Enquiry about object: 4922
Malay Kris Panjang with Chased Silver Mounts & Pierced Hilt
Malay Peninsula 18th-19th century
length: 42.5cm,weight: 443g
This fine kris was acquired in the UK and almost certainly has been in the UK since colonial times. It has significant age. We have dated it to 18th-19th century, but an 18th century dating is very feasible.
The hand-guard or wrangka (to use the Javanese term) is of dark wood, and is of Islamic-influenced, crescent-form.
The scabbard is encased in one piece of sheet silver. It is finely chased on the front with typically Malay foliate motifs. The reverse is decorated with cross-hatching.
The collar or ring at the base of the hilt is of cast silver that has been chased with flower motifs.
The blade is relatively thick and with gentle fullers. It is double-edged, straight and with a light pamour created by layers of nickel and iron.
The hilt is of horn rather than wood, and is carved and pierced all the way through. It has a stylised jawa demam form, and is decorated with Malay foliate scrollwork, and terminates with a flower-like finial.
The blade fits snugly into the scabbard. Overall, the kris is in very good condition and has a excellent patina.
References
Noor, F. & E. Khoo, Spirit of Wood: The Art of Malay Woodcarving, Periplus, 2003.