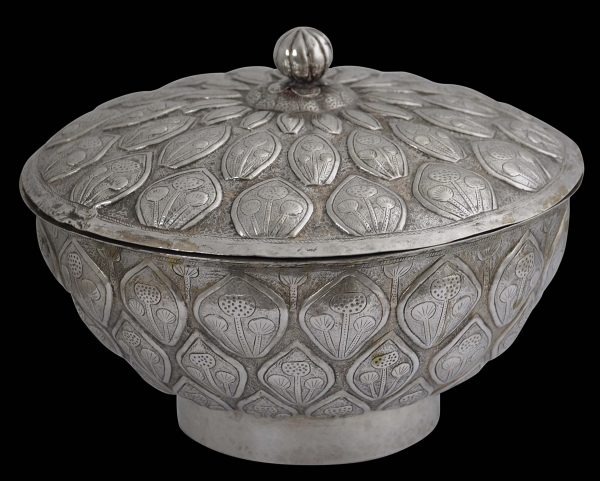 4519
Enquiry about object: 4519
Silver Lidded Lotus-Pattern Bowl
Singapore or Riau circa 1920
height: 16.3cm, diameter: 21.4cm, weight: 506g
This attractively proportioned bowl is in the Malay style of the Malay Peninsula or the Riau archipelago which is part of the Indonesian island of Sumatra. Possibly it was made in Singapore.
It is of finely hammered sheet silver. It has a domed lid surmounted by a gadrooned finial. The base and cover are decorated with dozens of raised panels decorated with a lotus seed pod and two buds. The motifs are unusual for Sumatran or Malay silver.
A bowl of similar proportions and form is illustrated in Brinkgreve & Sulistianingsih (2009, p. 141) where it is described as a rice bowl (wadah nasi) and attributed to Riau.
Such silver has a low weight for its size – it is most probably the result of a client taking some silver to a silversmith and commissioning a piece of silver as large as he could make it given the silver he has been allocated for the purpose. It is designed to be looked at and admired – perhaps by guests at a Malay wedding.
This example is in fine condition. There is minor creasing to the silver on the edge of the cover, on account of it having been hammered so fine, but otherwise, there are no dents, splits or repairs. It is a particularly attractive example of Malay-style silverware.
References
Brinkgreve, F,. & R. Sulistianingsih (eds), Sumatra: Crossroads of Cultures, KITLV Press, 2009.