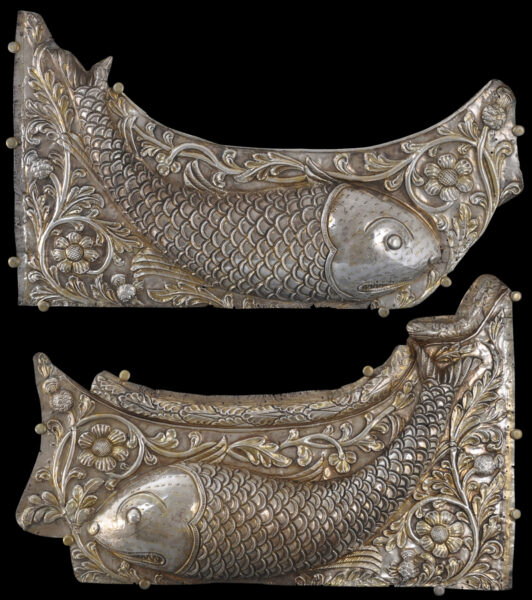 7119
Enquiry about object: 7119
Pair of Mounted, Large, Gilded Silver Lucknow Fish Elements
India, probably Lucknow 18th-19th century
width (individually): approximately 45cm, height: approximately 28.5cm; display stand's width: 48cm, depth: 20cm, height: 44cm
This impressive pair of panels showing fish surrounded by scrolling foliage and flowers are of beaten and chased high-grade silver sheet that has been gilded (gold plated). Almost certainly, the pair formed part of massive doors, or lintel above doors, most probably in a palace.
They have since been attached to thick slabs of black marble with grey-white inclusion that are mounted on perspex bases, thus making a fine and very decorative pair. The setting of the fish plaques against the black marble gives the effect of fish fossils!
The fish motif, and most particularly, the way in which the fish here are styled, was part of the royal emblem of the Oudh (Awadh) royal family that ruled over Lucknow. The fish motif was used on royal standards and on the walls, in stucco, of royal compounds. The Nawab even had a floating boat-like vessel shaped as a fish (see Markel, 2010, p. 85 for an illustration).
The ruling family of Oudh established themselves as independent hereditary rulers during the collapse of Mughal power in the early 18th century.
The strategic position of their capital and that of Oudh province prompted the British to use them as a buffer state between their own territories in the east, and the west. However the British used the inevitable intrigue and jockeying in the Oudh Court to exert greater and greater influence. By the turn of the 19th century they managed to virtually exercise a veto right on the succession. The Nawabs devoted much of their time trying to project the outward signs of their sovereignty and regality, rather than exerting real power. Accordingly, Lucknow became an important centre for court arts.
Wajid 'Ali Shah was the last Nawab of Oudh. By the mid-19th century, the Nawabs had lost their political and military usefulness to the British, and so the British under Dalhousie, Governor General of the East India Company, annexed the kingdom outright in 1856 on the grounds of internal misrule. It was in Oudh where the first great revolt of Indian Independence started in 1857. Meanwhile Wajid 'Ali Shah was exiled to Calcutta with most of his family. A subsequent uprising lead to the Siege of Lucknow during which the British recaptured the city. The actual siege occurred between 30 May and 27 November 1857. But the British finally retook Lucknow, starting from 6 March 1858 with all fighting over by 21 March 1858. Much of what belonged to the royal family and nobility was taken and it is highly possible that this was when this pair of fish elements was taken and brought back to the UK.
The pair are in fine condition. Their mounts are high quality and add much to their decorative appeal.
References
Llewellyn-Jones, R. (ed.), Lucknow: City of Illusion (The Alkazi Collection of Photography), Prestel, 2006.
Markel, S. et al, India's Fabled City: The Art of Courtly Lucknow, LACMA/DelMonico Books, 2010.