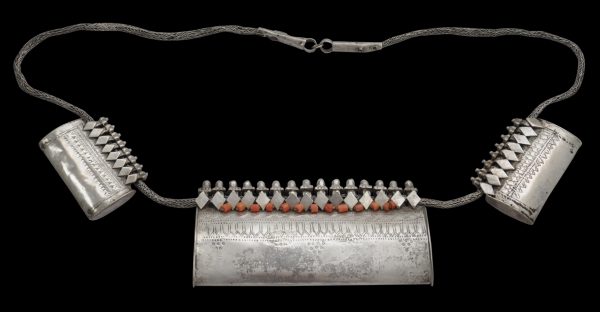 4136
Enquiry about object: 4136
Silver Necklace with Three Attached Silver Amulet Boxes with Coral Beads
Hadhramaut Region, Yemen 19th century
length of main box: 12.4cm, circumference of necklace: 79cm, weight: 240g
This necklace comprises a larger and two smaller silver amulet boxes and the original chain of woven silver wire. Each of the boxes is rectangular but with rounded sides.
The larger of the amulet boxes is decorated with a series of coral beads. Each of the boxes is also decorated with bands of engraving or incising, as well as having a row of lozenge-shaped silver applique plaques at the top and then a row of applied cast silver finials.
See Seiwert (2009, p. 139) for a related amulet necklace of a larger and two smaller amulet boxes of similar form.
The example here is wearable and without losses. The silver has some age-related mottling and clear patina.
References
Seiwert, W.D., Jewellery from the Orient: Treasures from the Bir Collection, Arnoldsche Art Publishers, 2009.