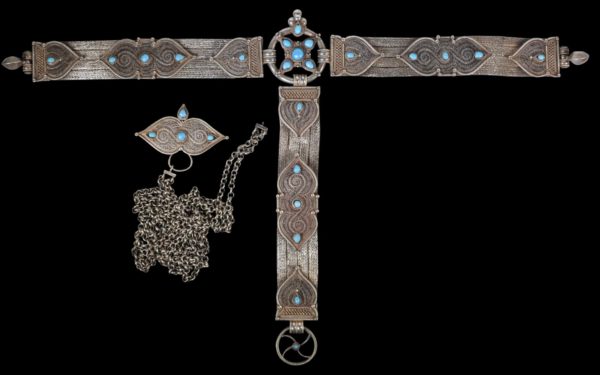 5774
Enquiry about object: 5774
Tibetan Silver & Turquoise Woman's Belt Ornament & Matching Silver Chain (Ghanjen or Gyenzen)
Tibet 19th century
length: 46cm, height: 28cm, length of chain: 126cm, overall weight: 603g
Provenance
private collection, London, UK.
This T-shaped belt or waist ornament was worn by well-to-do women in Lhasa at waist level. Such ornaments were worn on important public occasions.
It comprises three heavy straps, each of four, wide cords of woven silver wire decorated with silver plaques overlaid with fine silver filigree and set with turquoise-coloured glass cabochons.
The straps or arms radiate from a central, cast dharma medallion set with turquoise glass. The two horizontal arms terminate with solid cast silver hooks. The lower arm terminates with another round dharma medallion to which a long heavy double silver chain is attached. The chain has at its other end a medallion plaque decorated with silver filigree and turquoise glass. It is unusual for this chain to still be present. The chain would have been considered valuable in its own right for the weight of the silver alone.
Heavy waist ornaments such as these were worn with the central strap hanging down freely and with the chain attached to another part of the belt or dress. On important occasions, long strands of pearls, coral and turquoise beads were attached to the wheel-like end of the central strap. These could loop down almost to the ground and back up again where they were attached to the main garment somewhere near the shoulder.
The belt is in excellent condition.
A belt ornament of related form is illustrated in Casey Singer (1996, p. 142), and in Clarke (2004, p. 67).
References
Casey Singer, J., Gold Jewelry from Tibet and Nepal, Thames & Hudson, 1996.
Clarke, J., Jewellery of Tibet and the Himalayas, V&A Publications, 2004.