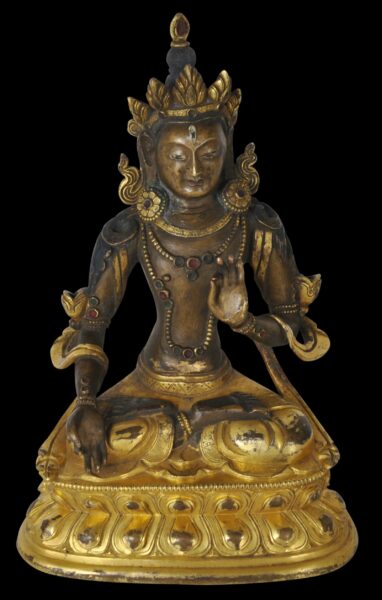 9222
Enquiry about object: 9222
Tibetan Chinese Parcel-Gilt Bronze Amitayus
Tibeto-Chinese 18th century
height: 17.4cm, width: 11.8cm, depth: 8.5cm, weight: 1,317g
Provenance
Private collection, UK
This image of Amitayus is larger than most such Sino-Tibetan pieces of the period. (The image might also be of Maitreya if the tall headdress is interpreted as a stupa as a stand-in for an image of the Buddha.)
Elegantly seated on a double-lotus, waisted pedestal, Amitayus, finely cast in a rich copper alloy that has been parcel gilded, is shown with a particularly thin waist, with the legs crossed in the vajrasana posture, and the hands in the gestures of charity and teaching. The face is downcast but with the eyes open. There is a third eye, and a fine nose.
Amitayus is adorned with beaded necklaces, bracelets, upper arm bands, anklets and large, circular, floral earrings. He wears a tall headdress of five leaves and a jatamukata that is simple but tall and which terminates with a gilded finial. Side ribbons flow from the arms. There are settings for stones, but the stones no longer are present.
The long, flowing hair retains remnants of blue pigmentation.
Supports on the arms  suggest that the image once had lotus stems on each side, similar to what might be expected of an image of Tara.
The consecration is intact. The sealing plate is engraved with a double vajra symbol.
The image was produced in China following Tibetan precepts.
The Qianlong Emperor was very interested in Tibetan Buddhism, and even declared himself to be a reincarnation of Manjusri, and the ruler of the Buddhist faith. He commissioned many stylistic copies of earlier Tibetan Buddhist sculptures and had a strong preference for Pala-style bronzes. These were produced in Beijing but his enthusiasm influenced workshops across his empire. The copying of such images was not simply done for reasons of aesthetics but as a devotional act, with the hope of channeling the power and the energy of past sculpture into new examples.
The sculpture here can be seen in those terms. It draws on 12th century Pala-influenced Tibetan and Nepalese styles.
The image's multi-tiered jatamukata, the foliate crown, the oval-shaped draping of the robes over the knees, the wide casting of the lotus petals on the base, and the fact that towards the back of the image they peter out and are replaced with engraved petals before finally there being no petals at all, and the dark tone of the alloy, all point to the Chinese origins of this piece.
Overall, it is a fine example with the part gilding providing a pleasing contrast with those parts of the image left ungilded.
References
Pal, P., Himalayas: An Aesthetic Adventure, The Art Institute of Chicago, 2004.