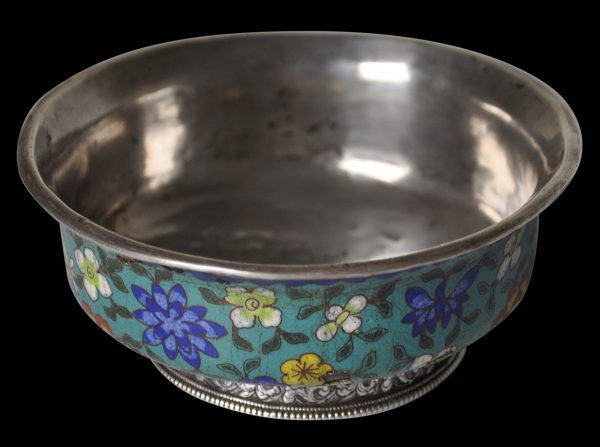 2445
Enquiry about object: 2445
Sino-Tibetan Cloisonné and Silver Eating Bowl
Chinese made for the Tibet Market 18th-19th century
height: 4.7cm, diameter: 11.5cm
Himalayan eating bowls made with cloisonné are relatively rare. This example has vibrant sides decorated with flowers in a variety of colours against a turquoise background. Probably made in China for the Tibetan and possibly the Mongolian market, it is completely covered inside with hammered sheet silver and with silver mounts to the exterior.
The foot ring is of silver and is delicately chased with a leafy scroll and then edged with pearled silver wire.
Cloisonné is a centuries-old technique for decorating metalwork objects that was first used in China. The decoration is formed by first adding compartments (cloisons in French) to the metal object by soldering or adhering metal wires or thin strips placed on their edges. The compartments were then filled powdered enamel or coloured glass that when fired in a kiln melt and fuse forming fields of colour which are kept separate by the soldered metal wires or strips.
The use of cloissoné on this eating bowl shows how Tibet served as an export market for Chinese manufacturers just as Europe, the United States, the Ottoman Empire, India and Southeast Asia also were early export markets.
The bowl is in fine, stable condition. The form, with is everted lip, is pleasing. The interior has light, small dents which are important for showing that the bowl was actually used for its intended purpose, having been jabbed at with chopsticks. There are age and use-related losses to the cloisonné inlay. An early colonial owner has scratched his name – 'H.P. Budgen' – to the interior!
References
Quette, B. (ed.), Cloisonne: Chinese Enamels from the Yuan, Ming and Qing Dynasties, Bard Graduate Center, 2011.