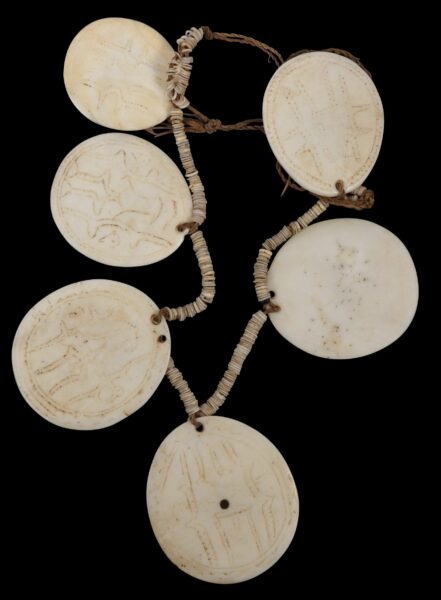 8542
Enquiry about object: 8542
Solomon Islands Engraved Shell Pendants with Shell Currency Strands
Solomon Islands early 20th century
length (of the largest shell pendant): 5.8cm, weight: 92g
Provenance
from the estate collection of a former London museum curator
Incised shell pendants such as the six examples here were worn either singly or strung on a necklace. They were worn around the neck and in the hair, only by men and usually for ceremonial occasions.
They were known variously as sa'ela'o or bebe and were cut from clam shell.
Most of these shell pendants of varying size have been gently incised with stylised images connected to the sea and air – possibly tails or fins, and probably stylised frigate birds. The shells were then rubbed over with powdered soot mixed with oil and then wiped clean so that the motifs could be better seen against the cream of the shell. The considerable age of this set of pendants is suggested by the fact that the surfaces have been worn smooth and muck of the blackening has fallen away.
The pendant is attached to strands of shell currency threaded onto coconut fibre string. The shell currency of the Solomon Islands has been used in the Islands' region for hundreds of years. It was used as a part of the bride-price or dowry and also for compensation payments. According to Grulke (2022, p. 203), production of shell money was mainly in the hands of the sea people of Langalanga on the west coast of Malaita. Their name for the currency was bata. Typically, shell currency was strung on cord. It could then be worn for safe keeping in the way that other cultures might wear necklaces of gold.
The pendants and shell strands are all in fine condition and importantly show considerable age.
References
Grulke, W., Adorned by Nature: Adornment, Exchange & Myth in the South Seas, At One Communications, 2022.
Howarth, C., Varilaku: Pacific Arts from the Solomon Islands, National Gallery of Australia, 2011.
Hurst, N., Power and Prestige: The Arts of Island Melanesia and the Polynesian Outliers, Hurst Gallery, 1996.
Neich, R., & F. Pereira, Pacific Jewelry and Adornment, University of Hawai'i Press, 2004.
Waite, D. & K. Conru, Solomon Islands Art: The Conru Collection, 5 Continents, 2008.