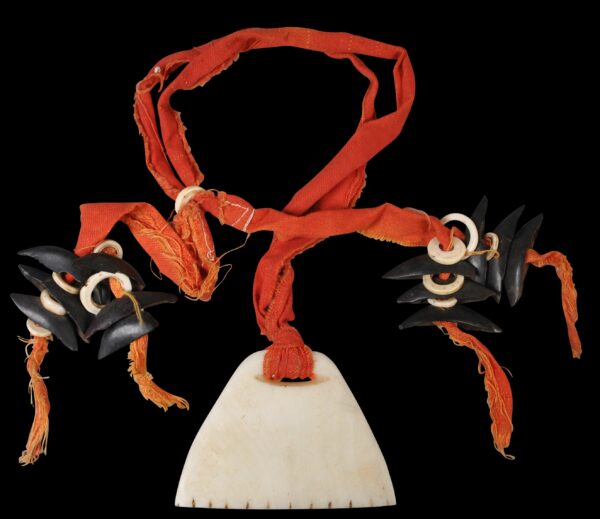 8543
Enquiry about object: 8543
Solomon Islands Carved Clam Shell & Seed Necklace
Solomon Islands early 20th century
width (of shell pendant): 8.5cm, weight: 99g
Provenance
from the estate collection of a former London museum curator
The necklace includes a large pendant carved from clam shell. The pendant is flat and shaped like a curved comb. The form echoes the more complex barava shell plaques that incorporated ancestor figures and were hung on shrine huts that held the skulls of the ancestors. Such a pendant as the example here was intended to convey ancestral power to the wearer.
Neich & Pereira (2004, p. 120) suggest that such pendants came from the New Georgia Islands (part of the Solomon Islands).
The pendant has been threaded onto strands of red cotton cloth. The ends terminate with tassels of halved, hard brown palaquium gutta seed pods, which were used on the Solomon Islands to make rattles for dancers. Among the pods are round shell pendants. Circular shell pendants had various names across the Solomon Islands, including papafita and ulute.
Overall, this is a fine and unusual example from the Solomon Islands with various elements, all in fine condition.
References
Grulke, W., Adorned by Nature: Adornment, Exchange & Myth in the South Seas, At One Communications, 2022.
Howarth, C., Varilaku: Pacific Arts from the Solomon Islands, National Gallery of Australia, 2011.
Hurst, N., Power and Prestige: The Arts of Island Melanesia and the Polynesian Outliers, Hurst Gallery, 1996.
Neich, R., & F. Pereira, Pacific Jewelry and Adornment, University of Hawai'i Press, 2004.
Waite, D. & K. Conru, Solomon Islands Art: The Conru Collection, 5 Continents, 2008.