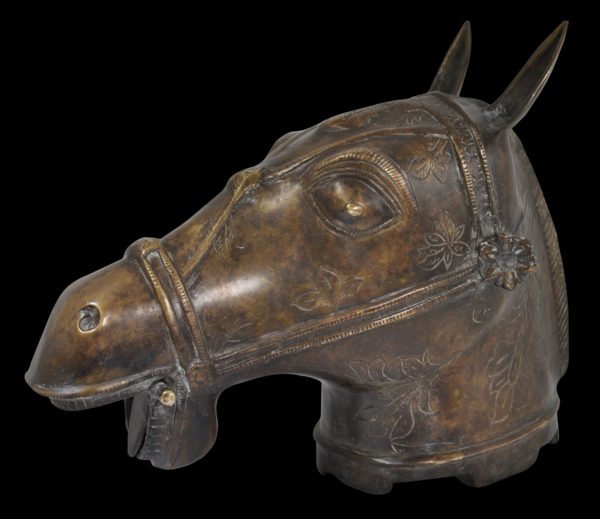 5614
Enquiry about object: 5614
Unusual Cast & Engraved Bronze Horse Head, probably of the Deity Aiyanar
South India 18th-19th century
width: 32cm, height: 24.6cm, depth: 11cm
This very unusual cast bronze head of a bridled horse is from South India, and possibly from the Tamil community of Sri Lanka. It is very well cast; the contours of the horse's head and jaw are well observed. The ears and teeth also are naturalistic.
The head has also been finely etched with floral decorations and motifs.
Probably, the head was cast as part of larger statue of a horse, or possibly was cast as a standalone piece to represent the horse that carries Aiyanar (also spelt Ayyanar, Ayanar or Iyenar), a village deity of Tamil Nadu. (Representations of Aiyanar also appear in Sri Lanka.) He is primarily worshipped as a protective guardian deity.
Most Hindu priests with a strong attachment to Aiyanar are from the local potter community, but other caste members also officiate in temples devoted to the deity. The linkage with potters accounts for the large numbers of terracotta models of horses to be found in the grounds of Aiyanar temples in those parts of Tamil Nadu where Aiyanar worship is practiced. These models are there for the god to use at night when he emerges from the temple. It is why many of these models verge on being life-size.
A terracotta version of Aiyanar with a head that bares much resemblance to the example here is illustrated in Aditi (1982, p. 166).
The horse's head here is decorated with floral motifs which might be suggestive of a Sri Lankan Tamil provenance too.
The head has a superb, varying patina. It is very strong sculptural piece with tremendous presence.
References
Aditi, Festival of India, The Handicrafts and Handlooms Exports Corporation of India Ltd, 1982.